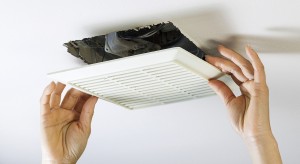 Many people don't even think twice about the fan in the bathroom. It seems like a standard fixture that should be a part of every home. When it isn't, it is seen as more of an inconvenience than a necessity. The fan isn't just for looks or an accessory. It is a vital piece of equipment that can keep your home safe from the damages of mold and mildew. If you don't currently have a working fan in the bathroom, it is an easy fix with the help of an electrician. Burbank homeowners can call The Electric Connection to set up a bath fan installation.
Bath fans are not what they used to be. They are elaborate additions to a modern bathroom. Many include heat lamps that help replace the warm, moist air they are removing from the room. The fans are very quiet and are available in different speeds, depending on how big the room is. You can buy a fan at almost any home improvement store. An electrician in Burbank suggests you do some investigating to find the best fan for your bathroom. They are relatively inexpensive, which is pretty amazing considering how much money they can save you on repair costs from moisture damage.
A fan is a key component in your home. Each time you shower in the bathroom, you are putting a great deal of moisture in the air. This moisture clings to the ceiling, the floor and even the drywall. Your Burbank electrician explains that this repeated exposure to moisture can result in mildew and mold. Most people know mold is extremely dangerous and can end up costing thousands of dollars in remediation costs. Don't let your home go another day without proper ventilation. Call The Electric Connection today and schedule your bath fan installation.