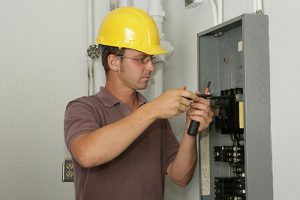 You would think living in the city, you wouldn't need to worry about ever going without electricity, but it happens. You may lose power due to a planned blackout or Mother Nature may hit the area with a violent storm that caused the entire area to lose power. In some situations, the blackout can extend for days or longer if the damage was severe enough. If you would rather not live in the dark ages during an extended power outage, consider having a generator installed by a Beverly Hills electrician. The team at The Electric Connection can take care of the job for you in a professional, timely manner.
A standby generator is not the same as a portable generator. You won't have to physically go out and start the equipment. You also won't have to worry about running extension cords through windows or risking electric shock by trying to close a cord in a door explains an electrician. Beverly Hills homeowners who choose the standby generator installation will barely notice a power outage at all. A switch is installed on the home's main electric panel. The very second power is cut from the mainline, the generator will turn on and feed the house with electricity.
Your electrician in Beverly Hills can give you more information about the various sizes of generators available and what size you would need to run your house. If you are willing to get by with the bare basics, you can buy a smaller generator. The choice is yours. The generators typically run off gasoline, but you can buy generators that rely on propane. Having a large propane tank filled and ready to run the generator is going to give you power for weeks. If you would like to learn more about generators or have one installed, give The Electric Connection a call today.