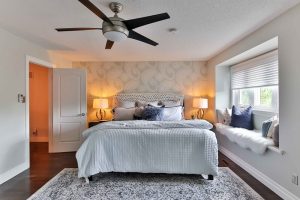 Have you walked into a home and looked up to see dirty ceiling fans? How often have you seen clean and sparkling ceiling fans? You may want to do a mental check and answer these questions.
If you have a ceiling fan and struggle to keep it clean, then you need to keep reading this article. In this article, you'll learn why most people don't clean their ceiling fans, important cleaning equipment, and quick and safe tips for cleaning ceiling fans; whether they are mounted on low or high ceilings.
It is common to find dirty ceiling fans in homes and spaces for different reasons. Some reasons are:
They usually forget it during cleaning routines.
It takes extra effort to climb up and clean.
It is risky to climb up and clean.
It requires frequent cleaning which can be tiring sometimes.
Unavailability of the right cleaning equipment.
A List of Important Equipment/Materials for Cleaning a Ceiling Fan
Ladder: A ladder is to help you reach heights where your ceiling fans are mounted. You must get a sturdy ladder that can conveniently hold your weight and prevent you from falling. The type of ladder depends on if you have a low or high ceiling.
A pole duster: This is a duster that has a long end to help reach heights. The duster can be used to clean the blades of the ceiling fans especially if you don't have a long ladder or you prefer to not climb before cleaning your ceiling fans.
A microfiber cloth or wipes: A microfiber cloth can easily absorb and retain moisture to help you clean your ceiling fans. A damp one for cleaning, and a dry one for drying off the blades of the ceiling fan.
A dust repellent product: This product will help to easily clean off dust and debris on your ceiling fan. It ensures a sparkling clean ceiling fan.
Water: You would need a good amount of water to help dampen the microfiber cloth and give the ceiling a good clean.
5 Quick and Safe Steps to Having a Clean Ceiling Fan
Here is a sure and quick way to get your ceiling fan clean, and working perfectly without spreading dust and dirty air in your space.
Put off your fan and ensure the blades have completely stopped rolling before you start cleaning. This is to prevent cuts.
Get your damp microfiber cloth and a dust repellent product for easy cleaning to clean the blades of the ceiling fan.
Get on your ladder and clean the blades carefully and gently. Be careful not to apply pressure on the ceiling fan to prevent it from bending and breaking.
If the ceiling fan is greasy and dusty, you may want to repeat the process a few times to wipe the fan clean.
Then finish with a dry cloth to dry off the blades. Do not forget to clean the cup of the ceiling fan too.
Note that you can use this simple procedure whether it is a high ceiling or not. All you have to do is get a ladder or pole duster that can conveniently help clean the ceiling fan.
Do not hesitate to contact us at The Electric Connection if you need maintenance checks and repairs on your ceiling fan or your other electrical needs. We have capable and handy electricians to help you.