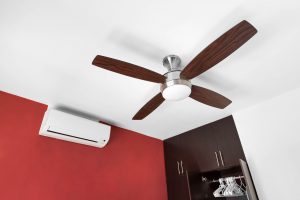 The first warm days have already visited and it is a good sign we are going to enjoy another warm, southern California summer. While the warmth is nice, it can get a little old. Sometimes, you need a break from the heat, especially after a long day at the beach or working in the yard. Your body needs a chance to cool down enough for you to relax comfortably and be able to sleep soundly. One way to do that, especially if you don't have central air, is with the installation of a ceiling fan in your bedroom by an electrician. Los Angeles residents can call The Electric Connection to have the job done before the heat of the summer hits.
Even if you have central air, a ceiling fan can provide a gentle breeze that is soothing and relaxing. For some people, the white noise is cathartic and can help lull them to sleep. Relying more on the ceiling fan to keep you cool and comfortable will save you money on your electric bill explains an electrician in Los Angeles. You won't need to have your AC unit set below seventy to be cool enough to sleep. The fan will rotate the air, providing a cool breeze for you to sleep under.
When it comes to choosing a fan for the bedroom, generally, they tend to be a bit smaller than fans installed in a large living room says a Los Angeles electrician. It is important you look at the recommended square footage of the room in the specifications for each fan. Blades that are too long can make the fan ineffective. There are plenty of colors and designs to choose from that will enhance and compliment your room décor. When you are ready to have the fan installed, give The Electric Connection a call.