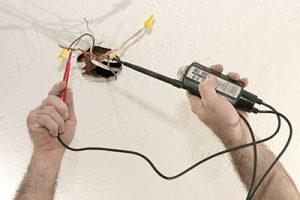 Stifling heat can be extremely uncomfortable. It makes you grumpy. You can't sleep or really relax after a long day. During the height of the summer, it may seem like the heat will never break. Running the air conditioner is helpful, but sometimes, it just isn't enough. You need the room to feel fresh and not muggy or humid. Not to mention, running the air conditioning all the time can get very costly. You can give your wallet and air conditioner a break while making your home a little more comfortable with the installation of a new ceiling fan. A Pasadena electrician can get you all hooked up in just a few hours. All you need to do is call The Electric Connection.
Ceiling fans make a beautiful addition to any room. They are elegant and useful. Most fans include lights as well that make them a dual purpose fixture. You can skip the hanging cords and have a remote control installed on the fan. With the touch of a button you can turn on the lights and set the speed of the fan. Ceiling fans should always be installed by an electrician. Pasadena homeowners will feel better and safer knowing the fan was properly wired and secured to the ceiling.
Imagine laying in bed with a cool, gentle breeze washing over you. The whir of the fan is also soothing for many. It helps lull them to sleep and keep them sleeping comfortably without getting that feeling of stifling air in the room. Your electrician in Pasadena can get you set up with a fan in each bedroom as well as any living spaces that tend to get a little warm. Combining the effects of a ceiling fan with your air conditioner will keep your home cool this summer. Give The Electric Connection a call today and schedule your installation before the summer heat rolls in.