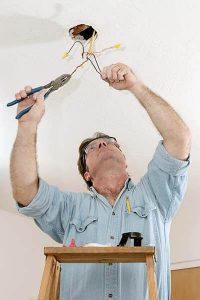 Old houses can be a real treasure to fix up. Some people prefer to keep the old bones while completely renovating the inside to give it a more modern look with all the perks of living in the twenty-first century. There are many reasons why this is a good idea. Your Glendale electrician will tell you that the electrical systems that were installed fifty years ago are not only outdated, but they may also be dangerous. It is possible to have the best of both worlds. All you need to do is give The Electric Connection a call.
Once you have had an inspection of the electrical wiring in your old home, your electrician in Glendale can tell you what you need to bring the house up to today's electrical safety standards. There is a chance the home will need to be rewired. This is generally true of homes that are more than sixty years old. However, every case is different. Previous homeowners may have updated the wiring in years past. Although the cost may be a little more than you anticipated investing, you will appreciate knowing the home is electrically sound. This alone can save you a great deal of worry and possibly money on your homeowner's insurance rate.
Having an updated electrical system with fixtures that are more energy efficient is definitely worth it. You can shop around and find light fixtures that are designed to look antique or vintage, depending on the look you are going for explains an electrician. Glendale homeowners can keep that old feel while appreciating the joy of energy-efficient lights. You will also get the benefit of upgrading the electric panel and adding more outlets to keep up with today's electrical demands. Give The Electric Connection a call today and see how they can make your old home a little safer to live in.