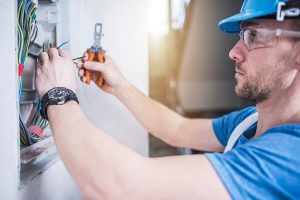 Electrical contracting is a wide and successful industry. It has a value of over $130 billion annually. There are over 70, 000 electrical contracting companies and over 650, 000 electricians in the United States. They serve both residential and commercial electrical needs.
An electrical contractor license is a license that allows the licensee to hire other licensed electricians, bid for electrical projects, and apply for relevant permits for jobs. Almost every state requires an individual electrician or company to obtain this license before they can provide electrical services.
Obtaining this contracting license varies between states. However, the individual electrician must be a master electrician. If it is a firm or company applying for the license, then they must present a master electrician who will be responsible for the contracting activities of the firm.
Requirements to Become an Individual or Business Electrical Contractor
Complete electrical apprenticeship to become a journeyman electrician
Meet all your State's requirement to be a certified journeyman
Earn a master electrician license
Apply for the electrical contractor license and fulfill the requirements
Eligibility for an electrical contractor license
For an individual to be eligible for this license you must meet the following criteria;
You must pay the required fees- this refers to the application fee and license fee which may vary across States
Have insurance with a reputable insurer
Commit to an educational and safety training
Complete the necessary forms
Possess the qualifications, training, and experience of a qualified electrician
You must agree to comply with all the State guidelines, legislative requirements, and the codes of practice
The projects a licensed electrical contractor can handle
COMMERCIAL AND INDUSTRIAL PROJECTS
A licensed electrical contractor can take on huge or small tasks within a commercial and industrial setting. These include working on schools, hospitals, office building, factories, and much more. Electrical contractors can bid competitively for these tasks and can also be hired as permanent members of the design-build team. The services they will provide to these buildings include the design and installation of panels, electrical systems, wiring, electrical equipment, and more.
RESIDENTIAL PROJECTS
Residential projects are the most lucrative business for electrical contractors because homes have evolved to need more customized electrical services. There are integrated communication systems, security and entertainment systems in modern homes. An electrical contractor can perform electrical upgrades, installations, wiring, renovation projects, and more in residential settings. Some projects may require permits which the license enables the contractor to obtain.
SERVICE AND MAINTENANCE JOBS
An electrical contractor can provide this to both residential and commercial settings. The contractors would need to service, maintain, and repair electrical systems. Sometimes such tasks are complete within a day or hours and have a flat rate cost.
The Electric Connection is a licensed electrical contracting company. We hire only the best electrical technicians to work for you. We are professional about our tasks and guarantee a satisfying service each time. You can call on us to handle any electrical tasks you might have. Our electricians ensure they get it right the first time, to save you cost, stress, and time.