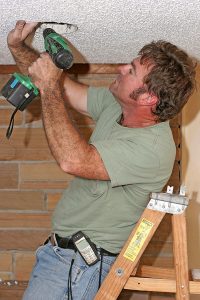 Although winter is still hanging around, it is time to dream about spring and the warmer temperatures that are just around the corner. After a season of closed windows, things tend to get a bit stuffy in the house. You are itching for a nice, refreshing breeze to roll through and make your home feel a little more comfortable and inviting. While opening your windows is always nice, sometimes it just isn't possible. You can still stir up the air and get that feeling of fresh with the installation of a ceiling fan by an electrician. Beverly Hills homeowners who are looking forward to summer can get a jump on it by giving The Electric Connection a call.
Your ceiling fan will come in handy all year round, especially on those days when it isn't quite warm enough to run the AC, but warm enough you need a little cool air. Open a window and turn on your new ceiling fan installed by an electrician in Beverly Hills. You will love the way the fan moves the fresh air around the room and prevents you from needing to turn on the air conditioner. This will save you some money on your electric bill as well. During the summer months, close the windows and let the fan move the cold air around generated by the AC. Again, it can help save you money on your electric bill by keeping the room cooler and lessening the amount of time your AC unit has to run.
Ceiling fans can be installed in any room, even if there isn't currently a light fixture in the area. Your Beverly Hills electrician will install a new wiring setup and make the hole in the ceiling to accommodate the fan. It is a fairly straightforward process and you will be enjoying your new ceiling fan in no time. Give The Electric Connection a call today and schedule your ceiling fan installation.