Electrician for Commercial Properties
About Commercial Electrician
Commercial and business properties may have different types of electrical needs than residential electrical services. The complexities of a larger electrical system require the knowledge and experience of highly trained electricians who are familiar with this type of electrical system.
The Electric Connection is the leading Los Angeles electrician in the area for both residential and commercial jobs. With a history of quality workmanship and excellent customer satisfaction in the Los Angeles and surrounding San Fernando Valley areas, there can be no better licensed electrical contractor to take care of all your commercial electric service needs.
Commercial Electrician FAQs
What's different about commercial electrical services?
What's different about commercial electrical services?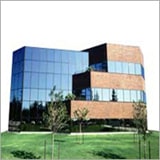 Business Impact

– When there is a problem with your commercial electric system, it's not just an inconvenience. It's interrupting the livelihood of you and your employees. We understand that keeping your commercial system running smoothly is of paramount importance. We treat every electrical commercial job as our top priority.

Network Wiring

– Is your commercial building setup with the network wiring to meet the demands of a large work force or multiple businesses? Let us set your business up for success in a world where communication is of paramount importance.

Lighting Updates

– Outdated lighting could be needlessly draining your wallet. Retrofit your building with modern lighting that's easy on the environment as well as easy on your bottom line budget.

Surge Protection

– Without surge protection for your entire building, a power surge can lead to damages that far exceed a few hours of lost business. Protect your electrical system and your equipment with a new surge protector.

Commercial Generators

– When the power goes out, emergency power from a generator is crucial to keep your business moving along. We can help you set up an appropriate sized generator that will keep your business afloat and buffer you against any unwanted lost time and sensitive inventory loss in the event of an emergency.

Service Calls

– When you need a commercial electrical service fast, don't hesitate to call us. Our technicians will promptly show up, and we're prepared to tackle your problems. When you need solutions instead of problems, simply give us a call.