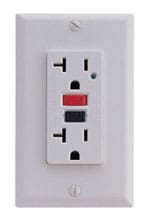 About GFI Electrical Outlets
Let's say your teen is using an electric drill outside and standing with bare feet in a puddle. Not a good idea. Electricity takes the path of least resistance, which just might be from the drill along arms and legs and into the puddle. If the drill were plugged into an ordinary outlet, this could be a fatal accident.
In recent years, the National Electric Code has included requirements for special outlets where such accidents could happen: pools, garages, kitchens, bathrooms, near spas, and in some other outdoor areas. These special outlets are called "GFIs" or "GFCIs" (Ground Fault Circuit Interrupters). A GFI detects that the current in an appliance is no longer flowing in its proper circuit. It shuts off the current within milliseconds. In the case of our teen, if the drill were plugged into a GFI outlet, electrocution would be avoided — a life saved.
GFIs look different from ordinary outlets. They have two buttons labeled "Test" and "Reset." You can check that a GFI is working by pressing "Test." It should shut off current to the outlet so that the outlet no longer provides power. After the test, you can restore current to the outlet by pressing "Reset." GFIs have a limited lifespan so test your GFIs once a month. Click here for additional tips for GFIs.
Check that your kitchens, bathrooms, garage, and outdoor areas are equipped with working GFIs. (Refrigerators are incompatible with GFI outlets and should not be plugged into one.) If your home doesn't have GFI outlets or they are no longer working, give The Electric Connection in Los Angeles a call for a Free Estimate or ask for a Free Home Safety Inspection. GFIs are an inexpensive investment in your family's safety.
GFI Electrical Outlets FAQs
What is a GFI outlet used for?
Where should I install a GFI?
How does a GFCI outlet work?
Why Can't I Reset? Is GFCI Bad or Is There a Ground-Fault?
What is a ground fault?
What is a GFI outlet used for?
GFI, or GFCI, stands for Ground Fault Circuit Interrupter. This device is used to protect from electric shocks from potentials faults in the electrical devices used.
A GFI outlet should be placed in areas that require electricity but are also near moisture such as bathrooms or kitchens.
A GFI compares the current being input to the current being output. If there is a difference in current this means there could be a leakage somewhere. The GFI then cuts off the power to the leaking device which reduces the chance of getting shocked.
Why Can't I Reset? Is GFCI Bad or Is There a Ground-Fault?
There is a great resource about troubleshooting a GFCI outlet at thecircuitdetective.com. It provides a handy chart outlining all the different reasons a GFCI cannot be reset.
A ground fault occurs when the "hot" wire touches the ground wire of a junction box or appliance. Large amounts of energy are forced through the fuse or circuit breaker cause it to blow or trip.
GFI Electrical Outlets Reviews
"The guys worked quickly but thoroughly. Their professionalism and quick response were the main reasons I picked them for the job. They showed up when they said they would, finished when they said they would, and did a good job cleaning up. I also thought the price they charged was fair."
—
Sally Goodrich
,
Pasadena
5
/
5
stars

"Overall, for the price, they did an excellent job. There were some minor challenges, but I think those can be attributed to our house more than anything they had to deal with. I'm not real big on electricians anyways, so I would never give an electrician an A."
—
John T. Wasserman
,
Woodland Hills

5
/
5
stars

"Louis did an excellent job and now all of the outlets are working again. He spent over an hour and didn't charge excessive amounts. The price was very reasonable. We would use them again."
—
Ralph and Maryanne Godswell
,
Glendale
5
/
5
stars

"Solved many existing electrical safety issues (overfusing at panel, insufficient wiring, replaced circuits, etc…). I sent an email list to the company and got a quick, very detailed response from the manager, with an estimate they ended up sticking to. I also talked on the phone with Kim, the owner, who answered more questions.
They were able to schedule me soon, and called before to confirm. They sent a point person (Ramiro) and two other workers. The work took two days (they'd expected possibly one, but they uncovered additional safety issues), and they worked efficiently and cleaned up as they went. They were competent, responsive, respectful of my house, good communicators, and patient with questions. I'm a very new homeowner, so I don't have much to compare them to price-wise, but the Internet research I did indicated that they're competitive. I would recommend them."
—
Pamela Thompson
,
Woodland Hills
5
/
5
stars

"They were very punctual and professional. They showed up when promised and their estimator was very thorough and knowledgeable. They took one day to make all electrical work and left everything clean afterwards."
—
Jon and Louise Van Huten
,
Los Angeles
5
/
5
stars

"I called on Thursday and was able to schedule an appointment for the next day. Robert came and worked around other workmen including the granite installer. Robert was professional, explained and outlined all the work that needed to be done and was an all around great person."
5
/
5
stars

"Two electricians arrive within an hour of the scheduled timed and got right to work. Both were friendly and willing to explain things to me. Our inspector had correctly identified that there was exposed wiring, but when the guys went under the house and into the attic, they were appalled to find out just how many wires were exposed. They ended up spending twice as much time on this issue as anticipated.
When I asked them to give me info on the outside wiring so that I would know what to tell the gate repair people, they worked hard to trace and repair wiring from under the house to the junction box by the gate.
In the end, we all decided that doing this right was another half day's work, but they did give it a serious try. A 3-hour job turned into a 7-hour job anyway. I know those guys were working through dinner, and as far as I know, their children's soccer games, because they didn't stop and they didn't complain. They stopped halfway through to give me a revised estimate and the choice to do some of the extra work or not. I don't know much about electrical work, so I am not qualified to comment on quality, but hey- everything is working!"
—
Stephie Datson
,
Los Angeles
5
/
5
stars

"They arrived on time, walked through all projects before starting to ensure they understood the expectations, asking questions & offering suggestions & confirming the pricing structure for service call items. Once started, they worked efficiently & neatly. They were conservative in their promises and over-delivered in both quality and cost-effectiveness. I would not hesitate to call them again."
—
John Stevens
,
Inglewood
5
/
5
stars

"Far exceeded expectations. I got a quote before the holidays & when I tried to schedule, I learned the 1st person I spoke to had misquoted the price, but they agreed to honor what I had originally been told. GREAT!
They were very clear up-front what was fixed price (e.g., outside fixture) vs. service call charged on a time & materials basis (e.g., outlet repair). GREAT!
I was uncertain whether I wanted them to do some of the work (e.g., rewiring outdoor outlet), so I first asked for a quote. Was told $150.00, as he wasn't certain how long it would take. I agreed, and shortly after he started he said it wouldn't be as hard as 1st thought and ended up costing $44.00. GREAT!
Final bill line itemed the various jobs, which ended up costing less than expected because the 2-man team was very efficient, so total bill was $300.00 less than I had expected from the 1st quote. GREAT! Clearly explained the problems they fixed. GREAT! Offered clear quotes on some add'l projects. GREAT!"
—
Tom E. Julliard
,
North Hollywood
5
/
5
stars

"They added three new outlets, fixed a loose dimmer switch and got our doorbell working again. They were great. Arrived right on time. Did the work quickly and well. They left my house cleaner than before they got here…even vacuumed."
—
Bettie Moss
,
Santa Monica
5
/
5
stars

"Everything went well. Alex showed up on time, did solid work, and was diligent in cleaning up from himself. I found an electrician for all of my future projects."
—
Scott Iverson
,
Pasadena
5
/
5
stars

"They were nice, efficient, and not too expensive."
—
Marcia Guffstason
,
Los Angeles
5
/
5
stars