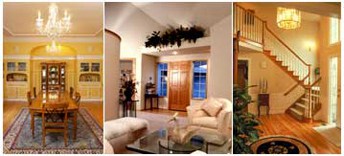 About Lighting Installation
When you next consider installing or updating the lighting in your home or business, give us a call and you'll discover all the advantages of hiring a professional Los Angeles electrician for your home or business lighting needs.
We offer outstanding service in the installation of the following types of lighting:
Traditional Light Fixture

For lighting that dazzles and complements any room, traditional lighting fixtures work best when incorporated into your traditional interior decoration scheme. Let us help you install the exact lighting that fits your interior design vision.

We specialize in track lighting installation. Track lighting is a modular and very adaptable way to light any space. With even one installation of track lighting, you can have a lighting solution that perfectly illuminates any room.

Low profile and recessed lighting is perfect for any homeowner wanting a lighting setup that blends into a room with minimal visual interference. Recessed lighting requires a very specific type of installation, and it should always be installed by a professional electrician. Call us today for more information on recessed lighting installation.

Energy Efficient Light

Energy efficient lighting is a common sense way to care for the environment while at the same time tending to your budget. We can help you select LEDs or compact fluorescent lighting that will lead to long-term savings with your energy bill.

Outdoor Lighting

The only thing that is standing in the way of you enjoying the beautiful outdoor space at your home in the evening is adequate lighting. We have a variety of lighting that turns a patio or backyard into a perfect place for entertaining family and friends. Well-lit spaces are also proven to deter theft, so you can increase the safety of your home at the same time by shedding a little more light onto the situation. We are happy to perform your outdoor lighting installation.
We know you'll be pleased with your lighting project if it's completed by the experts at The Electric Connection. Call us today to see us in action, and let us light up your world!
Lighting Installation FAQs
What are the different types of recessed lights?
What are the different types of recessed lights?
Recessed lights are great for low ceiling rooms because they are flush with the ceiling. They are sometimes called can lights or downlights. There are four main types of recessed lights – shower, wall wash, eyeball, and baffle. While baffle trim is the most commonly used, it doesn't allow for movement. Whereas with eyeball trim you can focus the light where you need it. Wall wash trim comes with a shield over half of the light so you can evenly position the light on a specific feature in a room. Shower trim naturally goes in the shower as it has tempered glasses and is wet-rated.
Lighting Installation Reviews
Fair and Professional Over the Phone Estimate
"The Electric Connection was prompt and courteous. I called for an estimate over the phone and thought they sounded fair and professional. They came that same day and gave me a written estimate and offered to do the job immediately. They finished when they said they would and left the room cleaner than they found it. I received a follow-up call a few days later to make sure that I was happy and I thought that was a really nice touch!"
—
Sara P. Brown
,
Silver Lake
5
/
5
stars

Sensible Recommendations
"Very pleasant experience. Luis listened to my concerns, made solid, sensible recommendations, and returned to do the work promptly and efficiently. Didn't try to upsell me but, was able to do everything I added to the project. Would definitely use them again."
—
Lisa Mandell
,
San Gabriel

5
/
5
stars

I Couldn't Have Been Happier
"Confused about what kind of spotlight to buy for my art collection, I called after closing time and the receptionist put me on with the owner who told me exactly what I needed so that when I went to Lamps Plus, I purchased exactly the right fixtures and dimmers and bulbs.
The next day, Alex and Hector arrived early (the dispatcher called and asked if that was okay) in the cleanest truck I've ever seen. It looked brand new. They did the work beautifully, consulted me about proper positioning, patched the ceiling holes nicely, and cleaned up after themselves. When I needed 60 watt bulbs and a new switch plate, they had them in their truck which was much appreciated. I couldn't have been happier with the whole experience."
—
Peter Strickland
,
Los Angeles
5
/
5
stars

The Quality of The Work Was Excellent
"I've used Electric Connection for two other projects in the past with excellent results, so there was no question about using them again. I requested a rough phone estimate, and as part of that received itemized quotes for different tasks so that I could adjust my guess for price as I changed my mind about what I wanted to do. The first firm quote based on an on-site look at the location came in quite a bit higher than the phone estimate, but that was because I tripled the number of light fixtures I wanted to replace and added the requirement for a switched wall outlet in the living room, which involved running a lot of wire through existing walls.
The quality of the work was excellent. The crew arrived slightly early, worked quickly and efficiently, did everything I asked for, performed all work to Code (this is important!), finished in less than a day, and cleaned up all debris afterward. Everything worked as intended; there were no issues or call-backs. The Electric Connection may not be the cheapest outfit on the planet, but you get exactly what you pay for. I highly recommend them."
—
James Pastore
,
Sun Valley

5
/
5
stars

Left the Work Area Clean and Neat
"I am writing to you to express my satisfaction with the work your technician, Julio, performed at my property. My impression is that he is highly qualified and he performed the required work in a timely and aesthetically pleasing manner, leaving the work area very clean and neat. I will definitely use your services in the future and will recommend your company to everybody I know."
—
John Merced
,
Northridge
5
/
5
stars