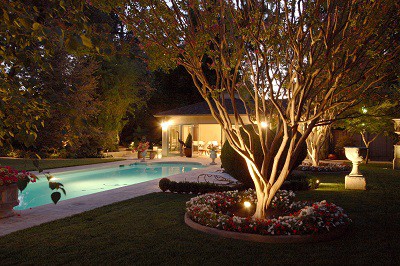 About Landscape Lighting
Landscape lighting is so much more than popping a few solar lights in the ground and calling it good. You need a professional installation that will transform your yard into the beautiful, safe place you have been hoping for. Outdoor lighting enhances the overall look of your home and increases the property value. Sufficient lighting also makes it much safer for you come and go from your home as well as entertain guests at a backyard barbecue.
There are plenty of reasons to have outdoor lighting installed.
Highlight ornamental flowers and trees
Highlight a water feature
Light up a deck or patio for outdoor dining and entertaining at night
Add safety to the dark corners of the yard
Light up pathways to the front door or through a garden
Light up staircases to enhance safety
Lighting can add a magical touch to an otherwise boring backyard. You can choose to have colored lights placed around a water fountain to make the piece really stand out in your landscaping. Other areas that are further enhanced with properly placed lighting include swimming pools, flower gardens and statues in the yard.
You work hard to keep your landscaping looking nice and it is only natural you would want to highlight it with exquisite lighting that brings out the best in your yard. We strive to meet your lighting needs and can help you create the perfect scheme that enhances your yard while ensuring the lighting does not become an eyesore.
The following are some of the factors we consider while creating your lighting schemes.
Ensuring the light isn't so bright that is distracts or interferes with the view of passing motorists
Does not light up your neighbor's yard
Does not create so much light the stars are invisible
Using energy efficient lights that will not run up the electric bill
The landscape lighting Installation will also include automatic systems that will control when your lights turn off and on. You can opt for motion sensors, photo cells that turn off on depending on the available light or timers. We offer the highest-quality light fixtures that are weather-sealed to ensure durability and longevity.
Our team at The Electric Connection is ready to help you design the perfect lighting scheme for your landscaping that will enhance the natural beauty as well as the safety of your outdoor space while adding value to your Los Angeles home.
Landscape Lighting FAQs
Can landscape lighting illuminate my yard?
What is line voltage lighting?
Can landscape lighting illuminate my yard?
Landscape lighting can be used to illuminate your yard by lighting up different features such as plants or furniture. It can also be used as security or safety.
What is line voltage lighting?
Line voltage lighting include table lamps and most ceiling fixtures. Line voltage runs on the line voltage of the home and does not use a transformer. Landscape lighting that uses line voltage is often used in commercial, security, and public use.