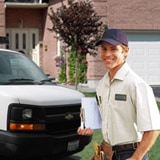 About Electrical Service Calls
As a homeowner, needing a service call with an electrician can be completely unexpected. The inconvenience of having an electrical malfunction combined with needing to coordinate an appointment with a Los Angeles electrician that will show up on time and do the job right can often be a real concern.
However, you'll never have to worry about any type of problems with a service call from The Electric Connection. Our certified technicians will arrive in a vehicle fully equipped with all of the tools and supplies needed to solve your electrical issues. If electrical troubleshooting is necessary, they'll troubleshoot the problem and then give you an estimate within a reasonable amount of time.
Here are a few reasons why The Electric Connection is the preferred Los Angeles electrician for all of your commercial or residential service calls:
Providing the best customer service in the Los Angeles area.
We're a fully licensed, bonded, and insured contractor.
Capability to take on projects of any size, both commercial and residential.
Over 30 years of experience in the Los Angeles and surrounding Valley areas.
Lifetime guarantee on all of our work.
On time or your service call is on us. That's right. If we're even a minute late, the service is free.
Free Home Safety Inspection is included with every service call.
Free over the phone assistance. We'll always give you the most accurate electrical advice that we can, even if it means we won't be seeing you for a service call.
Certified technicians prepared to troubleshoot any electrical issue and fix any minor issues in the same visit.
Free Over-the-Phone Estimates!
We practice honesty in everything we do. That means if there is a less expensive alternative to your electrical needs, we'll let you know exactly what it is. This approach has created thousands of satisfied customers over the years and has made us the top electrician in Los Angeles.
The next time the lights go out or if you have any electrical questions or concerns, give us a call and see the difference that honest and prompt licensed electrical service makes.