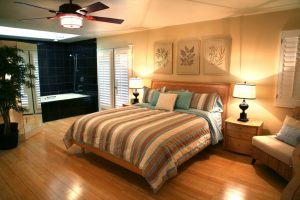 It may not seem important today, but summer and warm weather is not that far away. It is time to start thinking about how you are going to beat the heat this summer without trying to run your AC at full throttle. That only leads to more problems that will ultimately lead to you spending a lot of money trying to keep cool. There is an option. Ceiling fans are an excellent way to create a cool breeze in the home. All you need to do is call an electrician in Beverly Hills, like those at The Electric Connection.
A fan in the bedroom is a welcome addition that can help you sleep better at night, especially on a day when the temperatures are warm. The breeze is very light. It keeps the air from becoming stale, which can make the room more comfortable. A ceiling fan installed by a Beverly Hills electrician will ultimately save you money on your electric bill. The fan will pull the hot air out of the room, making space for the cold air that comes out of the vents in the floor. This helps reduce how often your AC has to kick on to keep the room cool.
There are various styles and sizes of ceiling fans to choose from. You will want to make sure you choose a fan that is suitable for the size of the room. A nice addition is a remote control feature installed by an electrician. Beverly Hills homeowners won't have to worry about pulling on a chain to adjust the fan speed or to turn off the light. This is an excellent feature to have, especially when you are lying in bed at night. Give The Electric Connection a call today and schedule your ceiling fan installation.