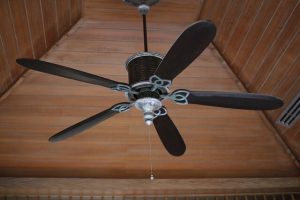 If you are gearing up for a hot summer this year, one thing you will want to make sure you have ready to go is a ceiling fan. Having one of these very handy tools in your bedroom over your sleeping area and in the living area can make a huge difference in your comfort level. Let's face it, when you are hot and miserable, relaxing or sleeping is impossible. No one likes to feel that way and a lack of sleep and ability to unwind can affect your daily life, including your ability to function at work. An electrician in Burbank is what you need so you can have a lovely ceiling fan this summer. The team at The Electric Connection is ready to help.
Ceiling fans need to be chosen based on the size of the room they will be going in. If the room you are planning on installing the fan in has vaulted ceilings, you will need an extension bar as well as a remote control. This allows you to control the speed of the fan as well as turn the light off and on from the couch or even while you are lying in bed. An extension bar brings the fan lower into the room for maximum effectiveness explains an electrician. Burbank homeowners will want to read the minimum and maximum square footage of a room the fan is designed for. You don't want a fan that is too small that will be ineffective and you don't want a massive fan in a small room that is unattractive.
You will enjoy the cool breeze the fan will create in the room. Using a ceiling fan can also save you some money on your electric bill explains a Burbank electrician. Give The Electric Connection a call today and schedule your new ceiling fan installation before the warm weather is here.