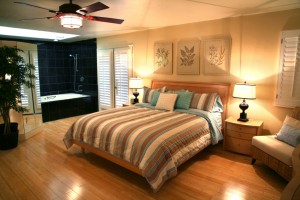 Many people are under the impression a ceiling fan is best in the living room. That is the area where you spend the majority of your time and is likely the biggest. A ceiling fan can be a statement piece as well as a functional appliance in a home. It circulates the air and gives the room a fresh, airy feel. Doesn't it make sense you would want to enjoy that luxury in other areas of the house as well? An electrician in Beverly Hills can help you make your bedroom, a den or even the patio a little more comfortable with the installation of a ceiling fan. The team at The Electric Connection is ready to help.
Ceiling fans are often equipped with lights as well. They serve dual purposes. A ceiling fan in the bedroom is soothing. The gentle whir of the blades provides that white noise that so many people appreciate. It also keeps the air fresh, especially in the summer. You will sleep better at night when you are cooler. Many of us sleep with the window open to get that fresh breeze, but sometimes, it just isn't a good idea. A Beverly Hills electrician can install the fan for you and you will be sleeping better that night.
You can certainly pick the fan you like the best, but you will want to adhere some basic specifics. The size of the blades and the distance between the ceiling and the blades is important. You don't want a fan that is too small for the room and a fan that is too big could look a bit like an eyesore. If you have vaulted ceilings, a fan with a remote is your best choice explains an electrician. Beverly Hills homeowners will love being able to turn the lights on or change the speed of the fan from the comfort of their bed. Give The Electric Connection a call today and schedule your bedroom fan installation.