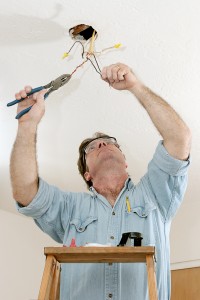 According to a popular word defining website, an electrician is "rumored to be immortal beings trained in the art of harnessing and controlling mystical power, seen only from the heavens by man's eyes." While this definition is up for debate, electricians are definitely an important resource for the modern world. Without electricians, we would all be sitting by the fire, telling stories via the drawings on the walls of the caves. Okay – maybe that's a bit extreme, but the human race would be lacking a lot, if not all, of the modern conveniences we take for granted today.
On a serious note, an electrician is a person trained to work on and repair electrical equipment. There are various types of electricians, some focus on "smaller" jobs such as house rewires and commercial repairs while others focus on larger jobs including working on ships and airplanes.
A lot of work and training is necessary in order to become an electrician in the United States. Nationwide licensing is not available in the United States. Individual states determine the requirements and testing necessary in order to become an electrician. While the requirements vary, all states recognize three different skill categories or level electricians. Apprentices, journeyman electricians, and master electricians all have different supervision and permit levels depending on years worked, job training, and hours in a classroom.
Apprentices are generally required to serve under the supervision of a master electrician, directly under the supervision of a journeyman electrician, for three to five years before they can work unsupervised. Apprentices must also complete schooling in electrical theory and electrical building codes.
After completing the requirement job training and classroom hours, usually 4,080 to 6120 and 144 hours respectively, apprentice electricians can become a journeyman electrician. In addition to these requirements, electricians must also have a two-year degree, complete two to six years of an apprenticeship, and pass a licensing exam. Although journeyman electricians are allowed to work unsupervised, states generally do not allow journeymen permits. Permits must be obtained by the master electrician who then directs the journeyman electricians and apprentices.
A master electrician is a journeyman electrician who has completed enough work hours and has enough experience to move up in the ranks. Generally a master electrician spends at least two years working as a journeyman before advancing. After becoming a master electrician, the electrician is able to supervise other electricians and pull permits. They are limited to registering to one electrical contracting company at any one time. This title is only given to electricians who are able to display the necessary job knowledge and have an extensive understanding of the electrical safety code.
The Electric Connection of Los Angeles is always looking for skilling journeyman electricians and apprentices with at least a year's worth of experience – the demand is high and the pay is well. All of our electricians are conscientious and hard-working individuals. Consider contacting our company if this applies to you!