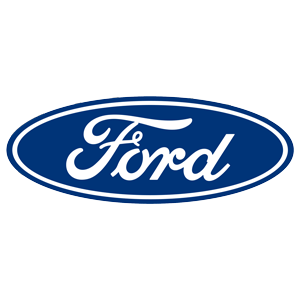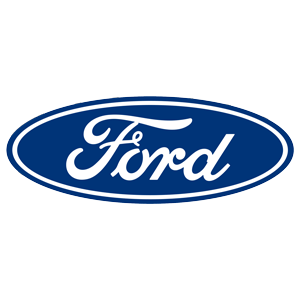 Headquartered in Dearborn, Michigan, Ford Motor Company (Ford) was founded in the summer of 1903 by Henry Ford. The company not only sells automobiles and commercial vehicles under the Ford brand but also has produces and sells luxury cars under the Lincoln brand.
By 1914, Ford's methods for large-scale manufacturing of vehicles was known around the world. Fordism, as people called it, used moving assembly lines that featured elaborate engineered manufacturing sequences.
Currently, Ford is only second to General Motors as the largest US based automaker. It is the fifth-largest in the world. As of 2020, Ford employed about 186,000 people worldwide.
---
Ford and the Environment
The sustainability goals of Ford include becoming globally carbon neutral by 2050, only using locally sourced renewable energy by 2035, and eliminating from its operations all single-use plastics by 2030.
In addition to setting its own goals, Ford created a program to help others. Ford's PACE (Partnership For A Cleaner Environment) program helps its suppliers minimize the impact they have on the environment. Ford shares details on how to reduce water and energy use as well as how to reduce carbon dioxide emissions. In return, Ford gains insight on how their suppliers are taking part by requesting their environmental data and best practices annually. As of 2015, the program had 25 strategic production suppliers which represented 800 manufacturing sites in over 40 countries.
---
Ford Electric & Plug-in Hybrid Vehicles
Ford's hybrid and all electric vehicle journey began in 2004 when they and Toyota agreed to a patent sharing accord. Ford was granted access to certain hybrid technology that Toyota had patented. The first vehicle produced from this agreement was the Ford Escape Hybrid — the third hybrid electric vehicle on the market and the first hybrid electric SUV. The Escape Hybrid also became the first hybrid with a flexible fuel capability allowing it to run on E85. Ford also has a line of plug-in hybrid vehicles available on the market.
Ford All-Electric Vehicles
F-150 Lightning
All-electric Truck
Intelligent Backup Power, Mega Power Frunk, Advanced Towing & Hauling
Models: PRO, XLT, LARIAT, PLATINUM
E-Transit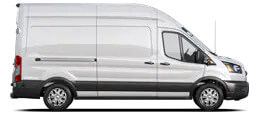 All-electric Commercial Van
Zero Gas, Less Noise, Zero Tailpipe Emissions, Smart Acceleration Truncation
Models: Cutaway, Chassis Cab, Cargo Van
Mustang Mach-E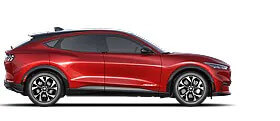 All-electric SUV
100% Electric SUV, Co-Pilot360 Technology, Ford BlueCruise, Front-Load Trunk
Models: Select, California Route 1, Premium, GT
Model
Driving Range
Level 1 Charging Time (120V)
Level 2 Charging Time (240V)
F-150 Lightning
230 to 300-mile range
80 hours (full charge)
Est. 3 miles per hour
17 hours (full charge)
Est. 14 miles per hour *
E-Transit
126-mile range
Not specified
8 – 12 hours (full charge)
Est. 10 – 15 miles per hour *
Mustang Mach-E
270 to 305-mile range
95 hours (full charge)
Est. 3 miles per hour
10.9 – 15 hours (full charge)
Est. 20 – 28 miles per hour *
Ford Plug-in Hybrid Vehicles
Escape SE Plug-In Hybrid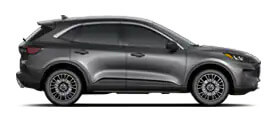 Plug-in Hybrid
Co-Pilot360 Technology, SYNC 3, Second-Row Sliding Seats
Models: SE
Model
All-Electric Range
Total Range
Level 1 Charging Time (120V)
Level 2 Charging Time (240V)
Escape SE Plug-In Hybrid
37-mile range
520-mile range
11 hours (full charge)
Est. 3.5 miles per hour
3.5 hours (full charge)
Est. 11 miles per hour *
---
EV Charger Installation for Ford Vehicles
Electric and plug-in hybrid vehicles come standard with the Ford Mobile Charger. The can plug into either a 120V/12A wall outlet or a 240V/32A NEMA 14-50 wall outlet. Customer can also choose to purchase a Ford Connected Charge Station which is a hardwired 240V/48A solution for at home charging.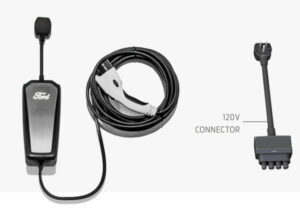 Level 1 Charging
When plugged into a standard 120V/12A wall outlet, the Ford Mobile Charger gives you 12 amps of charging power. This is the slowest type of charging, called Level 1 charging. Depending on what type of vehicle you have, it could take days before your car is charged from 0% to 100%.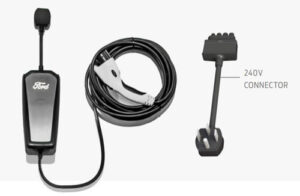 Level 2 Charging
Using the NEMA 14-50 adapter, you can get a faster charge than with the standard outlet. The NEMA 14-50 will give you 32amps of charging power but it will require a professional installation done by a licensed electrician.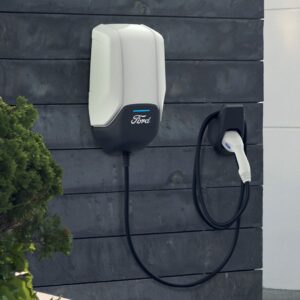 Level 2 Charging
Another option is the hardwired option. Ford offers the Ford Connected Charge Station which is an added cost. This will give you 48 amps of charging power. It is Bluetooth and Wi-Fi enabled and can give you charging insights on your mobile device. This option also requires the help of a professional electrician for installation.
We are happy to provide you an estimate to install an EV charger for whichever Ford vehicle you have. Please visit this page to fill out a little bit of information on your home and vehicle. Shortly after you fill out the form, you will receive an automated email with an estimate. You can also call us at (818) 446-0888 to speak with someone on our Service Team.