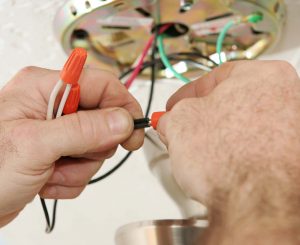 Often overlooked, a ceiling installation can bring a lot to your home. Installing a ceiling fan is a great way to keep your home cooler during the summer without breaking the bank. This helps you keep cool, save money, and save energy. Ceiling fans can also help keep out unwanted guests – bugs. With the breeze a ceiling fan creates, flies and mosquitos are turned away. They can also provide decoration and light to your rooms.
It's always a good idea to have a professional electrician install or replace a ceiling fan in your home but you can read up on how the process is completed.
Before beginning a ceiling fan installation or replacement, an electrician will have to follow a few steps to get started and ensure safety. The power must be turned off at the main panel before working with any wiring. The electrical connections must also comply with local and national electrical codes.
Your electrician will also bring a variety of tools with them to help install the ceiling fan. Wrenches, drill bits, various testers, pliers, screwdrivers, and more are used when installing or replacing a ceiling fan. Safety glasses and dust masks are also very important.
The next step is to find the best place for the ceiling fan. This will ensure safety as well as make sure the fan is working as efficiently as possible. Ceiling fans should be hung at least 8 feet off the ground while the blades should be 7 feet above the ground. The blades must also be at least 8 inches away from the ceiling itself and 18 inches away from any walls, doors, or other things it may come into contact with.
There are various parts associated with the ceiling fan that needs to be installed. Every fan is a little bit different, so when it comes to installing the actual fan it's best to consult with the installation manual to see how it should be installed.
If you don't want to chance your safety by installing a ceiling fan yourself, contact an electrician near you to do it for you. When you find a professional electrician for your new ceiling fan installation, you can be sure they will install it properly and quickly. Don't fuss around trying to install it yourself – call a licensed electrician to do it for you!
The Electric Connection of Los Angeles has been providing homeowners and businesses alike with expert electrical services for over 35 Years. We've built a company of highly experienced, certified electricians to serve your electrical needs, including ceiling fan installations and replacements. Contact us if you need any electrical services today.