New Electrical Construction Los Angeles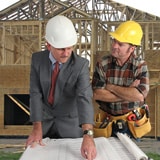 So much goes into a successful construction project. A patchwork of people and contractor companies are involved in making it run smoothly. Don't let the electrical system in your next Los Angeles construction project fall short of being done right the first time.
Here are just a few of the electrical projects we can handle for your next construction project.
Wiring

– When it comes to the electrical in construction, the wiring system is what springs to mind for most people. Wiring is an intricate process and any mistakes are costly and difficult to reverse. Our experienced electricians will do a perfect job, and you won't have to worry about any future complications.

Electrical Panel

– The electrical panel is one of the most critical elements in a wiring scheme. Having the proper panel size allows the entire electrical system to function at optimal capacity.

Wiring for Appliances –

Carefully considering the load by all of your appliances that will be placed on an electrical system ensures years of carefree electrical power. Misjudging this is a costly mistake that can upset the budget for your construction and lead to unwanted repairs.

Generators

– During a construction project this is an excellent time to install an emergency generator to power a building in the case of emergency. Prepare for the unexpected today, and install the appropriate generator for your home or office building. 

Fire Suppression

– Commercial and industrial buildings usually require a fire suppression system installed by a licensed electrician, and we can do the job for you. 
To ensure that your wiring is done properly the first time, there is no better choice in a Los Angeles electrician than The Electric Connection. From house calls to the biggest electrical construction project, we do electrical unlike any other contractor in the Los Angeles and surround San Fernando Valley areas. Give us a call for a Free Over-The-Phone Estimate and experience honest, timely service that sets us apart from the others.