Nissan, headquartered in Japan, is a multinational automobile manufacturer. Nissan's name was first used in the 1930s. It originated as an abbreviation for Nihon Sangyo used on the Tokyo Stock Exchange. Nissan motor organized in 1934 and completed the Yokohama plant in 1935 when the first car manufactured by an integrated assembly system was produced.
Since the 1950s, Nissan has produced a large range of cars and trucks that were initially made for domestic use but have been exported all around the world. In 1997, Nissan introduced its first battery operated electric vehicle, the Nissan Altra. In 2010, the Nissan LEAF was introduced as the first all-electric, mass-market vehicle.
Nissan and the Environment
Nissan has set it sights on becoming carbon neutral by 2050. Through the vehicle lifecycle and their operations, Nissan is planning on building a cleaner society.
The company has decades-long programs in place to reduce emissions that benefit society and the environment.
---
Nissan Electric Vehicles
Nissan All-Electric Vehicles
LEAF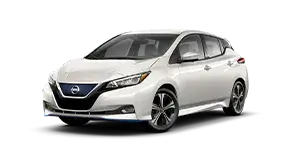 100% Electric Driving
Zero Tailpipe Emissions, Instant Acceleration And Fun, Electric-only Benefits
Models: S, SV, S PLUS, SV PLUS, SL PLUS
ARIYA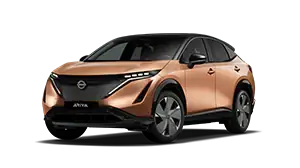 Coming 2023
Dual-motor, e-4ORCE All-Wheel Drive system, Driver assist technologies
Models: Venture+, Evolve+, Premiere, Platinum
Model
Driving Range
Level 1 Charging Time (120V)
Level 2 Charging Time (240V)
LEAF
149 to 226-mile range
29 – 40 hours (full charge)
Est. 5 miles per hour
8 – 11.5 hours (full charge)
Est. 18 miles per hour *
ARIYA
265 to 300-mile range
Not specified
Not specified
---
Nissan Vehicles Home Charger Installation
What to install a Nissan LEAF charging station? We are happy to provide you an estimate to install an EV charger for whichever Nissan vehicle you have. Please visit this page to fill out a little bit of information on your home and vehicle. Shortly after you fill out the form, you will receive an automated email with an estimate. You can also call us at (818) 446-0888 to speak with someone on our Service Team.
More information about EVs and EV chargers.
Nissan EVs in the News
MAY 25, 2022
Nissan Ariya to Tackle North to South Pole EV Trip
Chris Ramsey's journey in a modified Ariya crossover will test limits of range anxiety and temperatures in a world-first EV expedition.
MAY 8, 2022
Long before Tesla or the Leaf, this Nissan electric car claimed a 155-mile rangeA low 0.19 coefficient of drag, aluminum-intensive construction, low-rolling-resistance tires, fast-charging, a solar roof, and a heat pump were among the many innovations in this concept.
APR 27, 2022
2023 Nissan Leaf Hands-On Preview: Affordable EV Gets Cooler
Steady updates for the brand's original, affordable EV.