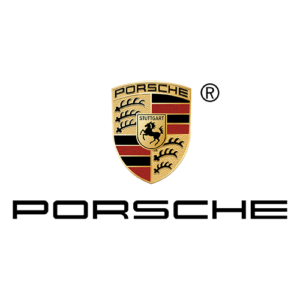 Headquartered in Stuttgart, Germany, Porsche is an automobile manufacturing company that specializes in high-performance vehicles.
When it began in 1931, the company did not build any cars under its own name but instead offered motor vehicle development work and consultation. The German government gave Porsche one of it's first assignments: to design a car for the people, or a "Volkswagen" (translated to "the people's car"). This assignment resulted in one of the most successful car designs of all time — the Volkswagen Beetle. Porsche later used many components from the Beetle to create the Porsche 64.
Fast forward to today and Porsche is known as one of "the most prestigious automobile brand[s]" with a variety of vehicles from sports cars to SUVs. Porsche's current line of vehicles include the 911 (992), 718 Boxster/Cayman, Panamera, Macan, Cayenne, and the all electric Taycan.
---
Porsche and the Environment
Porsche has set its sights on avoiding and reducing CO2 emissions as much as possible by making sustainability a crucial goal in their Corporate Strategy 2025. Along the entire value chain, where emissions are unavoidable, Porsche is voluntarily compensating by offsetting emissions to special projects. In 2020, the same year Porsche invested $24 million in 'e-fuels' in order to supplement the electrification of sports cars, they introduced the Porsche Taycan, their first all electric vehicle.
---
Porsche Electric Vehicles
In 2015, at the Frankfurt Motor Show, Porche debuted the concept version of their electric vehicle, named the Porsche Mission E. At the same show in 2019, Porsche introduced the production-ready model: The Porsche Taycan.
Porsche Taycan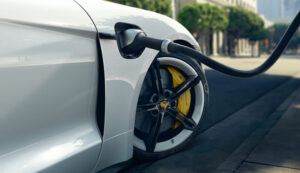 The Porsche Taycan is Porsche's first series production electric car. There are several variants with different performance levels. In 2020, more than 20,000 Taycans were delivered making up a total of 7.4% of Porsche's volume. Check out this Reddit post of one of the first Taycans on the road in Stuttgart!
The name of the vehicle is Turkish (tay can) for "lively young horse" and references the steed on the company's crest. Currently there are two different types of Taycans, a 4-door sedan and a 4-door station wagon, and plans on introducing other variants including a two-door coupe and convertible.
As of January 2022, there are 10 different Taycan models available according to Porsche's website. They are separated into the categories below.
Taycan Sedan
The Taycan is said to be "the pure expression of a Porsche electric sports car". It has the recognizable design of a Porsche with the perfect mix of performance and usability.
Sport Turismo
With a Taycan 4 Cross Turismo you get a larger rear compartment and bigger interior. This body shape allows for more off-road adventures.
Cross Turismo
The Taycan GTS Sport Turismo has the timeless design with more space. This "no compromises" package combines elegance with practicality.
---
Taycan Charging
Porsche boasts top speeds — even when standing still. In terms of charging and range, all electric Porsche models show their Porsche genes. Since it is a sports car, the company believe that it should be "ready to set off at all times" and they try to facilitate a simple charging system that can be integrated in to all lifestyles.
The estimated EPA range for the 2022 Taycan models are as follows:
Taycan – 200 miles
Taycan with Performance Battery Plus – 225 miles
Taycan 4S – 199 miles
Taycan 4S with Performance Battery Plus – 227 miles
Taycan Turbo with Performance Battery Plus – 212 miles
Taycan Turbo S with Performance Battery Plus – 201 miles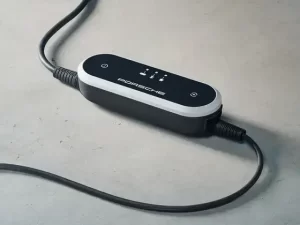 Porsche Mobile Charger Plus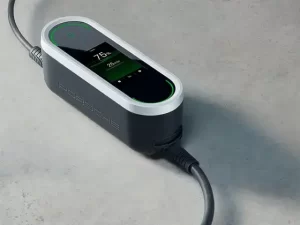 Porsche Mobile Charger Connect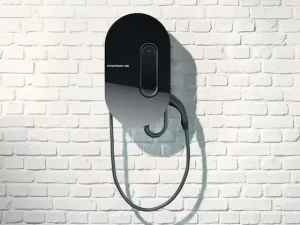 Porsche Wall Charger Connect
For charging on the go, Porsche has worked on developing it's own solutions for charging as well as collaborated with IONITY and Electrify America.
When you want to charge your Taycan at home, you have a few options. When ordering an electric vehicle from Porsche, you are able to choose a standard Porsche Mobile Charger Plus. This will allow you to charge on a traditional (120V 10amp) household receptacle up to a 240V 50amp receptacle. A NEMA 14-50 plug is recommended for the most efficient and fastest charging with the Porsche Mobile Charger.
Taycan charging times vary with the mobile chargers. If you are working with a standard 120V outlet (or Level 1 charging), you can expect your charge time to be anywhere from 57 to 90 hours. A 240V receptacle (also known as Level 2 charging) will give you a full charge in around 10.5 to 12 hours.
In addition to the Mobile Charger Plus, customers can also purchase the Porsche Wall Charger Connect which is a hardwired charger that allows for the fastest home charging possible. This device will need to be installed by a professional electrician. Once installed and plugged in, it will take less than 5 hours to completely recharger the Taycan battery on the highest setting.
Below is a chart of the different charging rates you can see for each model of the Porsche Taycan.
Model
Battery Size
Mobile Charger
@ 3.6kW
Mobile Charger
@ 9.6kW
Mobile Charger Connect
@ 9.6kW
Wall Charger Connect
@ 19.2kW
Taycan
79.2 kWh
24 hrs
9.5 hrs
9.5 hrs
4.5 hrs
Taycan 4S
79.2 kWh
24 hrs
9.5 hrs
9.5 hrs
4.5 hrs
Taycan GTS
93.4 kWh
28 hrs
10.5 hrs
10.5 hrs
5.5 hrs
Taycan Turbo
93.4 kWh
28 hrs
10.5 hrs
10.5 hrs
5.5 hrs
Taycan Turbo S
93.4 kWh
28 hrs
10.5 hrs
10.5 hrs
5.5 hrs
Taycan GTS Sport Turismo
93.4 kWh
28 hrs
10.5 hrs
10.5 hrs
5.5 hrs
Taycan 4 Cross Turismo
93.4 kWh
28 hrs
10.5 hrs
10.5 hrs
5.5 hrs
Taycan 4S Cross Turismo
93.4 kWh
28 hrs
10.5 hrs
10.5 hrs
5.5 hrs
Taycan Turbo Cross Turismo
93.4 kWh
28 hrs
10.5 hrs
10.5 hrs
5.5 hrs
Taycan Turbo S Cross Turismo
93.4 kWh
28 hrs
10.5 hrs
10.5 hrs
5.5 hrs
If you're unhappy with the options that Porsche offers for home charging, you can also look at other EV charger manufacturers such as ChargePoint, Wallbox, or even the Tesla Wall Connector with an adapter.
---
Photos of the Porsche Taycan