TV Telephone Data Cable Los Angeles - The Electric Connection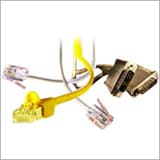 Taking care of all the entertainment and communications needs for your home or office can be a challenge. We can handle most of your TV, telephone, and data cables needs in a prompt visit. We're ready and able to bring our wiring expertise to your Los Angeles home or business whenever it's required.
Generally, you'll need these types of wiring services routed to different areas of your house. We'll set up your TV, computer or other data cabling in a way that makes it easy for another service provider to interface with our wiring. And more importantly, in a streamline manner that makes the most sense for your home or office. We'll also bundle the wiring to minimize intrusion into the walls and floors of your home.
Make the smart investment in the data service installation at your Los Angeles home or business by calling The Electric Connection for a free over-the-phone consultation. When we do the job, we'll make sure there's the least amount of intrusion into your home and your life so that you'll have more time enjoying the services that we've provided.
With our knowledge of TV, telephone, and data cable installation, our Los Angeles electrician team understands what the most efficient means of installation will be in each particular situation. With the help of our certified technicians, we'll help you to make an excellent choice in updating and upgrading your property.