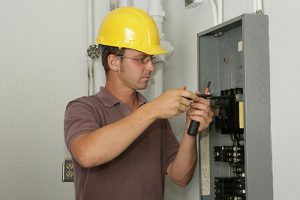 The Electric Connection has been proudly serving Los Angeles and the surrounding areas since 1979. Homeowners and businesses in Lynwood should feel safe trusting our company with their electrical issues. Our electricians are highly experienced and certified to serve your needs. There are a lot of electricians in Lynwood to choose from but with over 25 employees The Electric Connection is the perfect to become your next electrician. If you're looking for an electrician Lynwood residents and businesses, give The Electric Connection a call today! We do superior work for sensible prices.
[divider]
Electrician Lynwood Residents Can Trust
As licensed electrical contractors in the Lynwood area, The Electric Connection is your one stop shop for residential, commercial, and industrial electrical services. Our electricians are experts in a variety of electrical services from lighting issues to whole home rewires. We only offer the best customer services and strive for customer satisfaction. We have over 100 five star reviews. The Electric Connection is proud to service the Lynwood community and we hope to continue on with the great relationships and friendships we have come across over the past years.
[divider]
Lynwood Electrical Services
The Electric Connection is proud to offer a variety of services to the residents and business owners of Lynwood. Below you will find just a few of the services your electrician Lynwood offers.
Ceiling Fan Installation
Free Electrical Estimates
Electrical Service Calls
200 AMP Service Panel Upgrade
Electric Vehicle (EV) Charger Installation
And Much More!
[divider]
Lynwood Electrical Troubleshooting
We like to give our customers a price before we get to the job but sometimes that not possible without further investigation. An electrical problem can have multiple causes and we will have to take a look at the entire situation to figure out what's going on. Once we see what's going on we will be able to trace the issue to the root cause. This is how we perform electrical troubleshooting in Lynwood.
When you call us for repairs, we will most likely give you our hourly rate. Rest assured that our professional electricians will likely have completed the electrical repair within the first hour. If the issue is larger than a simple fix, our electricians will be able to give you an estimate of the electrical work that needs to be done. We will be able to give you a firm bid on anything that is contained in your electrical system from doorbells to dimmers, we can solve it all. Call The Electric Connection for your next electrician Lynwood!
[divider]
Lynwood Map
[divider]
Recent Blog Posts
When Outlets Don't Work by Pasadena Electrician
-
It is not uncommon for a house to have an outlet that can be a little moody if you will. Sometimes it works, other times it doesn't. Or maybe, you have an outlet that doesn't work at all. You have searched everywhere for the magic switch that will send power to the outlet, but it […]
How Much Electricity Is My Stove Using?
-
Are you bothered about how much electricity your stove is using? Do you wonder what appliances use the most electricity as your electric bill comes in? Are you looking for the advantages and benefits of using an electric stove instead of a gas cooker? In this article, we would exemplify how your stove uses electricity, […]
Creative Basement Remodels with Glendale Electrician
-
You can look at your house and think of it as a piece of clay to be molded into image and design you want. Owning a home gives you the luxury of creating the perfect living space for your family by remodeling, upgrading or even adding on as allowed by your city building codes. Many […]
[divider]
Recent News
[RSSImport display="3″ feedurl="https://news.google.com/news/rss/search/section/q/lynwood+ca/lynwood+ca?hl=en&gl=US&ned=us" before_desc="
" displaydescriptions="FALSE" after_desc="
" before_date=" " date="TRUE" after_date=""]
[RSSImport display="2″ feedurl="https://news.google.com/news/rss/search/section/q/electrical/electrical?hl=en&gl=US&ned=us" before_desc="
" displaydescriptions="FALSE" after_desc="
" before_date=" " date="TRUE" after_date=""]

A Handy-Dandy Guide to Alhambra
[divider]