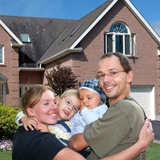 About Free Home Safety Inspection
Do you realize that one of the biggest fire dangers for your home could be right inside your walls? Many homes are consumed by needless electrical fires. One key factor to avoiding fire danger is a properly functioning electrical system.
As part of our commitment to the safety and satisfaction of our customers, we offer Free Home Safety Inspections with any service call. We'll inspect your electrical system for the most common causes of electrical fires and check for any risks that may be inherent in your home or office building.
Electrical fire danger is posed by the following:
Outdated Wiring – Most homes constructed before 1950 were generally wired with cloth-insulated wires. As the insulation degrades and falls away from the wire, it allows the exposed wire to arc and start an electrical fire. If you live in an old home, an electrical home safety inspection is necessary to assess the state of your wiring. 
Aluminum Wiring – During the 60's and 70's, a trend of using inexpensive, low quality aluminum wiring increased the fire danger for many residences. Aluminum wiring is highly prone to arc faults and starting a fire that could quickly consume your home. 
Frequently Tripped Circuit Breakers – Tripped breakers are a positive sign that your electrical system's safety features are working. It is also a clear sign that you're placing undue strain on the system. A home safety inspection will determine if newly added circuits can alleviate the problem. 
Overloaded Outlets – If extension cords are just part of your everyday electrical routine, then you are due for an electrical upgrade. When your current system isn't delivering to your specifications and repeated use of extension cords are used, this is a recipe for a potential electrical fire.

 
Many homeowners view an electrical home safety inspection as an all-day event, but inspections from The Electric Connection are usually completed within a very reasonable amount of time and will save you money and unwanted problems down the road.
The certified technicians at The Electric Connection in Los Angeles provide electrical home safety inspections on a regular basis, and can be provided with every service call or electrical job we do. If your home is overdue for a complete electrical inspection, give us a call today to schedule one. It could be the best investment that you make in your home for the future and safety of you and your family.
Free Home Safety Inspection FAQs
What is a periodic test?
What is meant by electrical testing?
What is EICR?
Is there an electrical safety inspection checklist?
A periodic test is just that – a routine test that is used to check the safety of your electrical system. This inspection will reveal if any of your electrical system is overloaded, find any potential hazards, identify if any of the electrical work is defective, and check the overall quality of your electrical system.
What is meant by electrical testing?
There are four basic electrical tests – high voltage, insulation resistance, earth continuity, leakage current or line leakage. Each test is important to make sure your electrical is safe.
EICR, Electrical Installation Condition Report, is a formal document that an inspector writes up after the electrical installation of a property.
Is there an electrical safety inspection checklist?
Yes, you can find a room by room electrical safety checklist here.