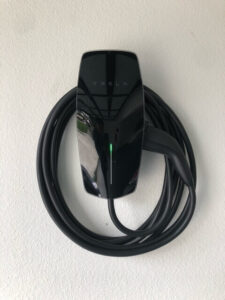 If you're in need of a reliable and user-friendly charging solution for your Tesla or non-Tesla electric vehicle, look no further than the Tesla J1772 Wall Connector. This versatile charging solution is perfect for homes, apartments, and workplaces.
Equipped with a 24-foot cable, multiple power settings, and a flexible indoor/outdoor design, the J1772 Wall Connector offers unparalleled convenience. You can expect to add up to 44 miles of range per hour, ensuring swift and efficient charging. It even has the capability to power-share, maximizing your existing electrical capacity and enabling simultaneous charging of multiple vehicles.
Rest assured that the J1772 Wall Connector is compatible with most North American electric vehicles. For Tesla owners, please note that an additional SAE J1772 Charging Adapter is required, which comes included with all Tesla vehicles upon delivery.
To ensure a safe and reliable installation, it is crucial to have a qualified electrician handle the installation of the J1772 Wall Connector. This is why The Electric Connection offers professional EV charger installation services. We ensure a smooth and efficient charging experience for your electric vehicle.
While The Electric Connection does not sell J1772 Wall Connectors individually, we are happy to provide one for purchase at a discounted rate if you choose us for the installation. Unfortunately, at this time, we do not have the J1772 Wall Connector in stock. We will update this page when we are able to provide more information.
To get a free EV charger installation estimate delivered straight to your inbox, click here and fill out our form.