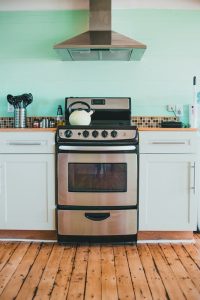 Are you bothered about how much electricity your stove is using? Do you wonder what appliances use the most electricity as your electric bill comes in? Are you looking for the advantages and benefits of using an electric stove instead of a gas cooker?
In this article, we would exemplify how your stove uses electricity, how to reduce your electric stove electricity usage, the advantages and benefits of using an electric stove, the options available for cooking, and their pros and cons.
If you need to add a new circuit for your stove, give The Electric Connection a call!
How To Determine How much Electricity your Electric Stove is Using
According to research, an electric stove uses on average about 2,000 to 5,000 watts during use depending on so many factors, including:
Number of burners
How many burners do you use? How often do you use more than one burner while cooking? All these will depend on how much electricity you use while cooking.
Oven Usage
Do you power your oven with electricity? Ovens are known to use more electricity than stoves. Your oven usage and frequency can greatly affect your electricity consumption.
Cooking Duration
How often do you cook? How long do you cook? Do you make multiple foods and make meals for large people? All these can adversely affect how low or high the amount of electricity you use.
How To Reduce Your Stove Electricity Usage
You can reduce your electricity use with some tips no matter how much cooking you do. Sometimes, you can save up some watts of electricity by being organized, careful, and following the tips below:
Use the same burner-to-pot ratio
It is advisable to use the same circumference of the burner for your pot. When you use a larger burner for a smaller pot, you are wasting electricity you could have ordinarily saved.
Meal Preps
To save electricity, you need to learn how to make meal preparations and do all the washing and cutting before turning on your electric stove. This will save you the electricity while prepping your meals while your electric stove is on. You would be amazed at the amount of energy you save when you begin to do this.
4 Advantages of Using Electric Stove
Let's highlight a few benefits of using an electric stove.
It is safer and easier to turn off and turn on an electric stove.
It is noticeable that the kitchen is cooler while cooking with an electric stove than with a gas stove.
It has a more stable surface for pots and pans and is easier to clean with a cooktop.
It is less expensive and easier to install unlike a gas stove with the hike in gas prices.
4 Disadvantages of Using an Electric Stove
Also, there are a few disadvantages to using an electric stove: They are:
It is dependent on electricity. When there is a power outage then you can't cook either.
Some electric stoves, especially the modern ones, cost more than gas stoves. Which is generally not cost-effective.
They cook food slower than gas stoves. The cooking time is slower which may not be helpful when you are hungry.
The cooktops can be easily damaged if handled carelessly which may not be cost-effective.