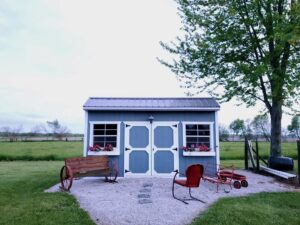 Sheds are generally for simplistic purposes like a garden, a sit-out, or a workshop. Oftentimes, you can feel like there's no need to add electricity to it. Using a hand or table lamp might be enough for you.
But whatever your shed is useful for, whether it's a workshop, a workspace, or a garden, you'll be needing some proper level of lighting so you can see, especially at night.
If you use your shed as a workspace, then you need that electricity more than ever.
Although using solar energy to power your shed will work perfectly, some people prefer the use of electricity, especially when they can't easily opt for solar power.
Whichever way, it is possible to add electricity to your shed, but there are things you must consider first before doing this.
What to Know Before Adding Electricity to your Shed.
Permit
In the area where you live, you will need to find out what the rules and regulations are surrounding the installation and use of electricity on certain occasions, to avoid trouble with the authorities for going against neighborhood rules.
Power Hazard 
Because a shed is not your home, you will not always be in there. So, adding electricity to a shed means there will be a possibility of a power hazard. How can you control that? Preventing or controlling this begins with running your electricity properly, in other words, ensuring that you are careful with how you fix the wires and run the connections.
To help set up your electricity safely, you'll need an electrician to help you. Make sure that you only hire a licensed and experienced professional to handle this.
The Electric Connection is a great example of what kind of electrical contractor you should hire. We make sure all safety measures are in place.
What Kind of Electricity Should you Put in Your Shed?
This depends on several factors, like where your shed is or how close it is to your house. You may choose to connect the shed to your house electricity, use a solar panel, which is safe, or use a generator specifically for your shed, which is also safe because you have control over it.
Using a generator will require more maintenance because you'd need diesel; you'd need to service it if it gets broken, and you'd need space to mount it.
Using a solar panel will work for you if your shed is exposed to sunlight, and you have to consider the amount of wattage your shed can take before buying solar with the right capacity.
The final and most advisable option is connecting your shed to your stable home electricity. This way, the lighting in your shed is constant.
At The Electric Connection, our team of professional electricians are well-versed with electric installations of all kinds. This means that whichever option you go for, we handle the installation perfectly. Book a call with us to get electricity in your shed.