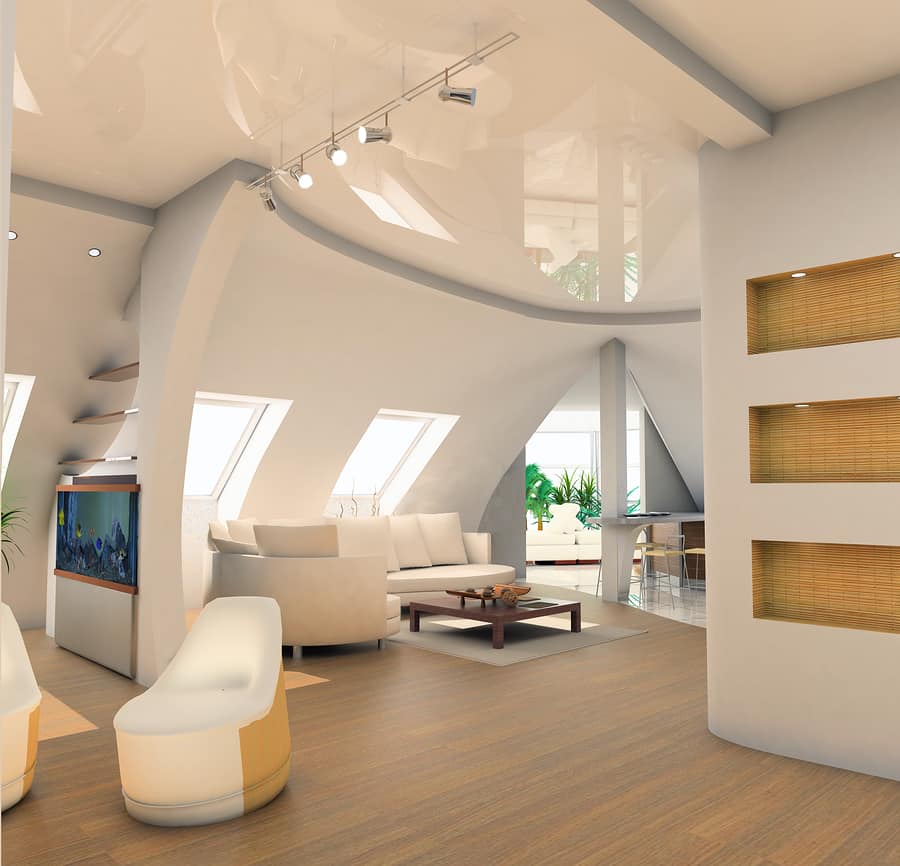 Track lighting, also known as rail lighting, is a quick and easy way to spread light throughout your home. Most track lighting is easy to install, lightweight, and energy efficient. It also comes in different sizes so it can be used almost anywhere whether you need little light or a lot of light. The lights can also be adjusted to direct light to different areas.
When it comes to buying track lighting there are a couple things to consider. What type of track are you looking to get – full or flexible? Do you want track pendants or a lighting kit? What kind of bulb are you searching for?
We can help answer all these questions and get your track lighting installed by an expert electrician. Give us a call today to get on schedule for your track lighting installation.
Track Lighting FAQs
Track Lighting Reviews
---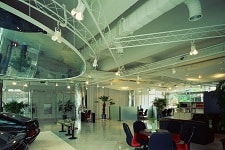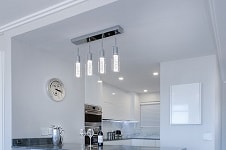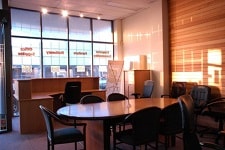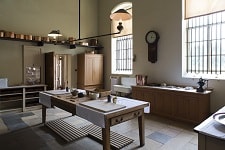 ---
Track Lighting FAQs
We receive a lot of questions about track lighting from our customers. Below you will find an extensive and growing list of question to help you out with your next lighting project. If you can't find your question on the list below, please give us a call and we will be happy to discuss it with you!
What is the first step to installing track lighting?
The first step is to determine what size of track lighting you will need installed. This consists of finding the length of the track light rail as well as the number of lights you will need.
---
What are the different types of track lighting?
The track lighting available to you greatly depends on the location and what you want to highlight with the light. A track light consists off two main parts – the rail and the head. The rail is the track or bar that the lighting, heads, are attached to.
Different lighting can be achieved by rotating the heads around. Move them to different areas in a room for ambient lighting. Shine the light on collectibles for accent lighting. For task lighting, rotate the heads over a work surface.
General lighting or ambient lighting is the most common type of lighting. If the track lighting is used as the main source of light, this is general lighting.
When used in smaller spaces, track lighting can be a great option as general lighting. It may have an problem when trying to light larger spaces. You can use track lighting and other types of lighting if you want to light a larger room.
Track lighting is great for highlight art work or collectibles. The heads can be easily turned to show off collectibles you own.
When the light is focused on a small area this is called task lighting. The is another area where track lighting shines. Offices and kitchens are great places to use track lighting for task lighting.
Contact Us
---
What is a linear track?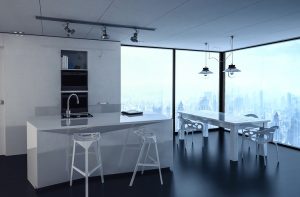 This is possibly the most practical and common track when it comes to track lighting. It comes if different lengths so it can be used most anywhere it makes sense to use track lighting. This track is a straight track and has room for several lights. It is also the easiest type of track lighting to install.
What is a flexible track?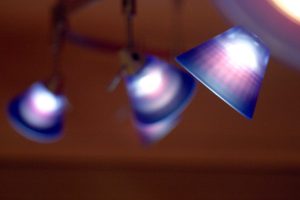 If you have track lighting with a flexible track that means the track has curves in it or can be bent. This allows for light to be spread out more and gives the track a more unique look. These tracks are good for accent or task lighting. The curving of the tracks not only creates a more custom look but also permits you to highlight specific areas by moving the lights around.
As soon as the track has been decided, you want to move on and decide which track head is the best. This will either be a flexible track head or a mini pendant.
---
What are the different types of heads?
The head for track lighting is the fixture that holds the lightbulb in place.
Most rails are designed with the intention to hold many different types of head but it's important to know which is the best to install befor purchasing them.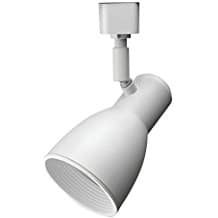 The most common type of track head is called the
step head
. It has a clean design and work well with any type of track.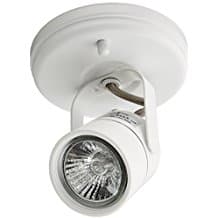 The second type of track head is the
round back head
. It is much like a step head but it has a rounded back. This is more sleek and makes the track lighting look more modern.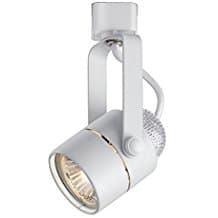 A
pinhole head
has the same basic shape as the first two mentioned but it has an exposed back. This make it look more industrial and works best in art studios or garages.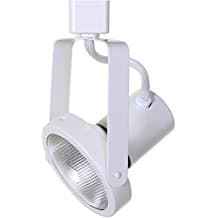 The next type of head looks like something that is seen on the set of a movie. A
gimbal head
was design to look like a movie camera and can swivel 360 degrees. These are much like pinhole heads and are great for art studios or workshops.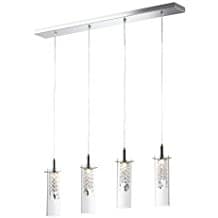 If you're looking for something that's a bit more decorative try out a
pendant light
. Most track lighting is used for more industrial settings but with track lighting you can add more flair to your home.
---
What are track lighting style options?
Once you have the track type and head type picked out the next thing to consider is the track light style. The will help with dictating the rest of your design such as the colors, materials, finish, and shade.
Track lighting by itself is modern in style so the modern style of track lighting is potentially the most popular. It's known for the sleep and refined looks with clean lines and crisp colors along with smooth geometric shapes.
This style of lighting is not the focal point and tends to fall into the background.
Contemporary lighting is used with modern lighting. They're very similar but are two different styles. Contemporary lighting is usually more relaxed and less sleek than modern with rounder edges and less straight lines. It often looks more futuristic.
Traditional track lighting has a more classic look than the others. This style is often more simple, straightforward, and laid back and used to create a relaxed atmosphere.
Similar to traditional lighting, rustic lighting emphasizes on rugged, natural beauty. These unobtrusive lights usually have naturally earth tones. It often makes the home feel grounded and refreshed.
The most complex and detailed style of lighting is Victorian. This style often includes engraved tracks and heads and gives your home a sense of elegance.
Contact Us
---
What are the best types of light bulbs for track lighting?
Light bulbs are very important when it comes to track lighting. They are, of course, how the room gets lit. The bulbs generally don't contribute to the look of the fixture, but can contribute different types of light to the room.
Depending on what type of lighting you're looking for you may want to choose different types of bulbs. Certain bulbs are better for task lighting, while others make grade ambient light.
Cost can also be another factor here. Energy efficient light bulbs may cost more to purchase but will last longer and use less power in the long run.
CFL light bulbs, or compact fluorescent lamps, are 10 times more efficient than normal incadenscent bulbs and tend to last longer. These bulbs can also help save money on your energy bill.
Incandescent light bulbs are what most people think when they think of light bulbs. These bulbs don't last vert long and are not energy efficient and are quickly being replaced by CFL bulbs. These are probably the most affordable option and produce a soft and warm light.
LED bulbs are the most energy efficient out of these types. In fact, they are 90% more efficient than traditional bulbs. They also last the longest and are very safe to use. LED bulbs remain cool when they are being used.
Halogen bulbs are another option and last way longer than the other types. This helps to reduce the cost and improves efficiency. They produce clear and bright light and have a white light which makes the room brighter and cheerful.
---
There are a few final things to consider when it comes to putting the track lighting all together. Materials, color, shades, sizes, and layout are all things that need to be taken into consideration.
The materials available for track lighting greatly varies. Tracks and head are usually made from real metal such as stainless steel or bronze. Some plastics are also used in track lighting. The materials used need to be strong and heat resistant. Look around the room you're going to install track lighting in. Look at the door knobs or handles – this is a good indication of what materials you should use for track lighting.
When the material is chosen, the color and finish can be considered. The material will help indicate what the color and finish will be. The most common colors include black, white, bronze, and chrome. The options here are limitless and greatly depend on your taste.
Track lighting heads are usually all inclusive – meaning the shade is built in. Certain heads have the option to change it out or add a custom one. The shade is used purely for decoration and should match your style. Frosted glass and colored glass are popular choices for shades.
The layout and size are usually chosen when the process first begins so you know how much space is available to you and which fixtures to choose. It's an important factor. The number of lights and the layout in which you place them will determine how effective the track lighting will be.
---
Track Lighting Installation Reviews
---