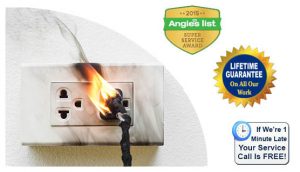 If you are planning to purchase an old home or you are already living in one, then chances are you may have seen cloth-covered wiring in the home.
Electricity was discovered in the 1800s, and it was not until the 1900s it became common in homes and buildings. As you might imagine, technology hadn't gotten so far either, so cloth-covered wiring seemed like a good solution at the time. It wasn't until the 1960s that plastic covered cables were introduced.
So, is cloth-covered wiring a safety concern? Short answer, YES.
Cloth-covered wiring served as standard insulation during those early times and kept homes running on electricity for several years. However, in recent times, the drawbacks and dangers of cloth-covered wiring have become more obvious and dangerous. Cloth-covered wiring is also quite outdated and out of standard.
Some risks posed by cloth-covered wiring include its vulnerability to being chewed by rats and insects and getting worn or torn over time. Either of these will cause the wire underneath to be exposed creating a major fire hazard.
Cloth-covered wiring is also associated with what is known as knob and tube wiring. During the time that cloth-covered wiring was popularly used, knob and tube wiring was the standard method for running these wires through homes. The knobs and tubes in question were made of ceramic and used to run the wires through the walls. These installations are prone to breakdown, do not supply enough power, and do not carry the safety features of modern wiring methods like grounding.
In addition, some cloth-covered wiring was further insulated with asbestos paper. When wear and tear or brittleness occurs, the asbestos may breakdown releasing its hazardous particles in the air. Asbestos is a known carcinogen to humans and extremely dangerous. All of these contribute to why cloth-covered wiring is a safety concern.
What you can do
The good news is you don't have to take your purchase elsewhere or abandon your home for safety reasons. Cloth-covered wiring can easily be replaced by professional electricians. A whole-house rewiring will eliminate the presence and dangers of cloth covered wiring.
What is required?
A professional electrician is a first and most important factor in a whole-house rewiring project. The electrician will inform you of what is needed including the cost. Whole house rewiring can be a bit demanding financially but it's well worth it for the electrical safety of your home, family, and appliances. You will get an all-round improved electrical system with the current electrical standards, grounding, new electrical panel, three-prong outlets, and GFCI outlet protection against shocks and much more.
Contact us today, for more details and excellent service.