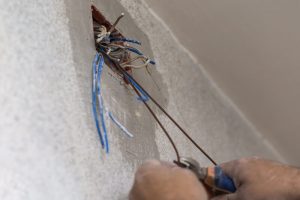 The thought of a complete home rewire can be worrying to some homeowners. But it's always better to be safe than sorry.
A complete Burbank house rewire can be less complicated than you think. Hence it's important to know what to expect and how you can make this project go as smoothly as possible.
When would you need a Burbank house rewire
Regardless of where you live, the factors that make a complete house rewire necessary are always the same. And in most cases, it's impossible to realize your home needs rewiring until certain problems occur or you are undertaking projects like remodeling or addition.
You would need a Burbank house rewire under any or most of the following conditions;
Lights flicker when you turn on power demanding appliances
You have old-fashioned wiring like cloth-covered wiring, fuse boxes, knob-and-tube wiring, and so on.
There are signs of overheating at the socket outlets
You are remodeling, renovating, or adding a new room.
Breaker trips frequently or more than normal
You are adding new demanding appliances
After an inspection by a licensed electrician who confirms your wiring is worn out.
What happens during a Burbank house rewire?
Things can get messy around the house because home rewiring projects can be disruptive. There will be wires, drywall and ceiling been cut into, and much more.
Electricians often rewire in two stages. The first is fixing wiring and cables, and the second is installing everything connected to a socket or switch.
You won't have power for a while. The electricians will shut off electrical power to the home for safety purposes while working.
You don't have to leave your home while it's being rewired. You can move from room to room or live nearby if you can't deal with the mess.
It can take anywhere between 2-10 days to rewire your home depending on how large your home is.
Rewiring gives you the chance to future proof your home.
What does it cost to do a house rewire?
With a project like this, you might have already guessed it can dig deep into your pocket. The cost of house rewiring can differ depending on factors such as;
Your location
If the house is occupied or vacant
Size of your home
Age of your home
The electricians you hire
It's possible to spend up to $3000 rewiring a home in Burbank and much less when the factors come into play.
What if my home is already rewired?
It's possible to discover that your home has already been rewired and is still in good shape for your use. The best way to tell is to call an electrician for an inspection, but if you're just buying the home, you can look out for signs such as;
Fabric covered wiring
Old-fashioned Fuse box
Old round pin sockets.
If your home does need a complete rewire, there are benefits in store for doing it. Rewiring your home with professional electricians helps you stay safe, fixes grounding issues, and gives you the capacity you need as a modern homeowner.