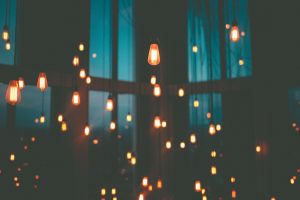 Flickering lights are almost impossible to ignore. They can be very annoying and dangerous if not solved. Flickering lights can be fun and raise no cause for alarm if the lights in question are decorative lights.
Here is why your lights are flickering and the possible solutions to restore your peace of mind.
Something to do with the bulb
Flickering lights may mean an issue with the light bulb, and this can occur in several ways.
Loose bulb – A loose bulb is probably good news because it means the problem is a poor connection. This usually applies when you have one flickering light. Turn off the power and use a gloved hand to unscrew the bulb carefully and then screw it back in.
Fluorescent bulbs – With fluorescent bulbs, it is almost normal to experience a brief flicker for about a minute after the light is turned on. To avoid this, you can replace your fluorescent bulbs with LED lights.
Faulty bulbs – Faulty or burned out bulbs can flicker as a sign that they need replacement. If a new bulb works better, then problem solved.
Dimmer switch – A dimmer switch comes in handy for lighting control and comfort but the bulb connected to this switch must be compatible. An incompatible bulb may flicker or you may even experience strobe light. Simply replace the flickering lights with a compatible one.
Outlets and Switches
Most lights are hard wired to a wall outlet or switch. Check the outlets for any sign of fault or wear. Flip the switch on and off while listening closely and observing the changes. If the outlets or wall switches are the culprits, a replacement will solve the problem.
Wiring
When it's none of the above, then you must consider a problem with the wiring of the fixture itself. Sometimes this can be fixed. Weigh your options if a repair is a better choice than a replacement.
Surges
Minor power surges can cause lights to flicker. These surges can occur when a demanding appliance comes on or during lightning strikes. This may not be a cause for alarm but over time it can become dangerous for your lighting system. A professional electrician can inspect and proffer a solution in this case.
A sign of outdated wiring
Flickering lights can be a sign of outdated wiring in the home. They show that your system is unreliable and needs an upgrade. This is not something you can troubleshoot or handle on your own. It can only be confirmed by an electrical technician.