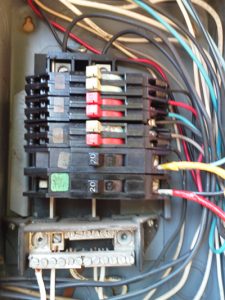 Electrical panels service homes and buildings by providing and controlling power. It is vital that such an important electrical appliance is safe and dependable. When this is not the case, homes and buildings can run into several electrical based problems that range from inefficient electricity supply to fires, electric shocks, and more.
Federal Pacific Electrical Panels (FPE) were highly popular electrical panels sold and installed in millions of homes throughout the Pacific Northwest from the 1950s to the 1980s. After a few years, people discovered that all FPE panels were problematic. They began to overheat easily and even cause electrical fires. Some electricians advise homeowners to maintain or constantly evaluate FPE panels. This is unsafe. It is much wiser to replace these panels if you have them in your home.
The reason why a replacement is ideal is mostly because of their problems and danger to lives and property. When these panels were tested by the Customer Safety Product Commission, they found that they had a shockingly high rate of failure which made them a safety hazard. At the time these panels were first introduced, homes did not have most of the electrical appliances and needs of recent times. Hence, these issues were partly hidden.
With more accidents caused by FPE occurring in homes, further investigations were made which revealed that FPE falsified their UL testing making their UL listing invalid. Virtually every panel installed contained defective breakers and the implications of this are unavoidable house fires.
What if I turned off the breaker occasionally?
Some electricians believe that if you turn the breakers on and off, then it is possible to use FPE panels without problems. This has never been shown to stop any issues with FPE breakers rather it only gets worse. If you opt for evaluating each breaker, that would cost much more than a replacement.
How much does it cost to replace my FPE panel?
The costs vary depending on the electrician you hire, any damages the panel has already caused, number of panels, size of panels, location, business or home building, and much more. You can expect the replacement to be quite an investment but affordable rates are still possible with the right electrical contractors.
How to check if my electrical panel is an FPE panel.
This is easy for homeowners and business owners to do. First, consider if your home or building existed within the years FPE were majorly sold. If your home is not that old, then there is nothing to worry about. These panels are common in much older homes and buildings. If your home falls within the age range, go to the panel and open it. Check thoroughly for the words 'Stab-Lok' or 'Federal Pacific Electrical' printed anywhere. If you find nothing, check the switches. A red strip across the switches shows it is an FPE panel. If you find none of these, then there is no problem.
You can always contact us at The Electric Connection to do this check for you and proceed with a replacement.