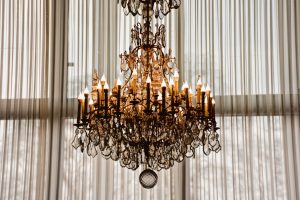 Chandeliers are valuable lights admired for the elegance and lighting quality they bring to a room. Any chandelier can add glamour and beauty to a home or even a commercial building. They come in various sizes, shapes, and designs. Some people believe that chandeliers are for high ceilings and dining rooms. A chandelier is actually quite versatile as it can be used in any part of the home and with both low and high ceilings.
There is a common debate people have about the installation of a chandelier. Some believe it can be a simple DIY process because a chandelier is still a light fixture. Others acknowledge that it is an electrical matter and should be handled by an electrician. Going DIY on your chandelier installation will save you cost but it is not safe or ideal. Any mistake can disrupt your entire electrical system or affect all the fixtures in the home or building.
A standard electrical box which is present in any light fixture installation can hold only 50 pounds. Regular chandeliers weigh more than that; hence it is necessary to determine if you need a support system before finishing the installation. It is almost impossible for a homeowner to do this. So, the best option is to hire a professional electrician. The electrician can handle any size of chandeliers and their wiring needs.
How to choose an electrician for your chandelier installation
Although you need an electrician to install a chandelier in your home, you must also take precautions when hiring. The wrong choice can lead to mistakes and regrets. The electrician you hire must be experienced and licensed. This is important because chandeliers are delicate and you must be familiar with their diversity to install them properly. Do a background check on the electrician and ask for references you can check out. Ensure the electrician is insured. Usually, you do not require a permit to carry out this installation but if the nature of your task demands a permit, then ensure the electrician has them.
Finally, consider the cost. The cost of hiring an electrician for this installation varies. Most electrical technicians charge per hour and the hourly cost is between $40 and $100. You may pay a total quote of between $300 and $2000 depending on the hours spent, size of the chandelier, and service provided. Remember to ask the electrician about the hardware to be used, cleanup, and estimated time needed.
Reach out to us at The Electric Connection
We know how delicate and yet majestic chandeliers are. Our professional, licensed, and experienced electricians are experts at a chandelier installation. We complete the job swiftly and ensure there's little to clean up afterwards.