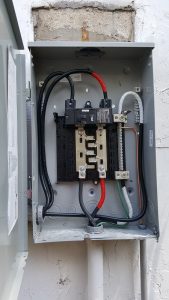 Panel upgrades are large projects. They require the expertise of a professional electrician and a good investment in funds. The electrical panels of a home contribute to its overall efficiency. In this modern age, we all rely so much on power to complete day-to-day activities. This power is distributed by the electrical panel of a home or building.
Like all electrical components, the electrical panel can require upgrade or changes. It is subject to fault, wear and tear. Some homeowners try to avoid upgrading the panel and keep using repairs as a shortcut. This is dangerous to lives and property. If you are not convinced about the need for panel upgrades, read on to learn why it is really necessary.
Safety
Unlike cars, bicycles, and other material objects you cannot use an electrical panel to its breaking point. An old or faulty panel is dangerous and difficult to operate. It becomes problematic and prone to electrical issues like heating or sparking. They also increase the risks of house fires and damaged appliances. To avoid home accidents, it is necessary to upgrade old or malfunctioning panels.
Convenience
There are times when you need to make changes to the appliances you use in the home or your lighting preferences. Without a functional panel, it is impossible to enjoy such convenience. Your current panel might not have the capacity to power your home with the new requirements for power. This will lead to frequent tripping which is always frustrating.
Value for your home
An upgraded electrical panel adds value to your home. It makes it attractive to investors and home buyers in the future. No one will be interested in a home with an old panel or a faulty one.
Eliminate electrical problems
Flickering lights, tripping breakers, smoking outlets, warm outlets, and so on are frustrating and worrying electrical problems. An upgraded panel can eliminate these issues. The panel helps to ensure the safe supply of electricity and no electrical hazards in the home.
Saves you money during remodeling
An upgraded panel saves homeowners money, during a remodeling project. There will be no need to upgrade the panel after carrying out a remodeling project in the home if this is already done. This will save homeowners from investing so much on a single project.
How to upgrade the electrical panel
An upgrade is only necessary when you experience signs of a fault in the electrical wiring. It is also carried out when you need to move from a 60-100 amp to a 200amp capacity panel. Ensure that you hire an electrical technician to inspect the house and carry out the upgrade. The project usually costs a substantial sum but takes less than a day to be completed.