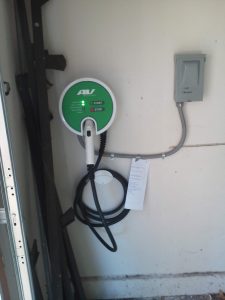 Big decisions are coming your way if you're purchasing a new electric vehicle. You might have decided on a make and model, but have you given any thought to how you're going to charge the car? If the city you live in has a lot of electric cars driving on the road, you may be able to find public charging stations on popular streets, but what if you want to be able to charge your car at home?
If you aren't driving long distances every day, a simple car from a public charging station or one located at work may do the job fine. However, if you're driving more than 30 miles a day, you will probably want to install a car charger in your home. You pretty much have two options here – a NEMA 14-50 or a wall-mounted charger. Both of these chargers will give you a full charger overnight but have various differences.
Because of the look and convenience, many homeowners prefer the wall-mounted option over the NEMA 14-50. This charger is mounted on your wall and is more aesthetically pleasing than just a NEMA 14-50. A NEMA 14-50 is just a larger outlet like the one your dryer uses. With a NEMA 14-50, any time you want to charge your car, you have to pull out the connector from your trunk and plug it into both the car and the outlet. With a wall-connector, the cord is attached to the unit so you just have to plug it into the car to get started.
There is a variety of places to search when starting the EV charging station hunt. Friends and family members who have electric vehicles may be able to recommend their choices.
You can also ask the dealership where you purchased the car. Since they probably sell a lot of these vehicles every week, they should have a good understanding of which chargers work best with your car.
Another good place to search is with your local electrician. It may sound a bit weird, but a professional electrician has experience with installing car chargers. They know the ins and outs of each device and which ones will work best with your new car. An electrician should be able to recommend the best charger to get you the fastest charge on your new car.
If you live in the Los Angeles area and are looking for proficient, understanding and honest electrical experts, we hope you will consider using The Electric Connection of Los Angeles for your electrical work. Whether it's for a new installation of a car charger or repair of any part of your existing electrical system, we honestly feel that we can provide you with electrical services unparalleled by any other Los Angeles electrical contractors.