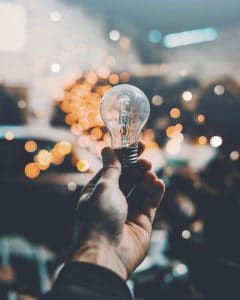 Perhaps the reason your potential customers always choose the competition over you is nothing more than online reviews. Research says that a whopping 86% of customers read reviews for local businesses before making a decision. In recent times an equally large number of customers decide based on good reviews.
How do you think this plays out for your company who probably don't keep tabs on their online listings? Or ask for reviews? Or respond to the reviews they get?
Not a good picture is it. Reviews are a part of all businesses now and apparently, they are here to stay. The question is how you can get in on this business trend and get reviews as an electrician.
Read on to know.
It starts with establishing your online presence

Reviews end up on your website or review sites like Yelp and Google my Business. Claiming your listings on any of these sites helps you control your review game. Have a social media presence as well where customers can easily reach out with comments. Social media makes it easy for you to see the signs of a fire before it starts – if you know what I mean. By being in control of your online presence you can direct customers to leave reviews on these sites or minimize the damage of a negative review.
Provide excellent service and customer experience

It's easier to get reviews and positive ones when you provide excellent service and customer experience. Go the extra mile to ensure you are certified, experienced, and insured. Arrive promptly, well dressed, and perform a neat job. Customers value and enjoy services that are smooth, stress-free and courteous. Strive to create a wow impression from the first touchpoint you have with the customer. Electrical services that turn out efficient and hassle-free are great initiators for positive reviews. When this is covered then you can have the confidence to move on.
Ask! Just Ask!

Several review platforms are against soliciting for reviews from clients, but mostly they are against using incentives or forcing clients to leave reviews. After a job well done, you can use emails, cards, letters, or face-to-face contact to remind the client to leave you a review. Infuse humor, politeness, and make it easy by sharing a quick link to your review page.

Many customers who have a good experience often forget or are reluctant to leave reviews. But the troublesome ones or those who feel they have had a bad experience won't skip a beat. They will find you anywhere and review you. So you see asking is of the essence to reel in as much good as you can.

To make things easier, use a program like The Review Generator to automate review requests and follow ups.
Reviews attract reviews

There is something called the herd mentality and for humans, it's just sheer nature. People like to follow the crowd. If everyone is buying groceries from the store down the street, then others assume there must be something good going on there so they join the crowd too. The more reviews you have the more you can actually get because people get the impression that your services are so good all your clients leave reviews. They literally can't wait to leave theirs too.
When the reviews do come, be sure to respond consistently and promptly. Showing your presence and connection encourages other clients to leave reviews too.