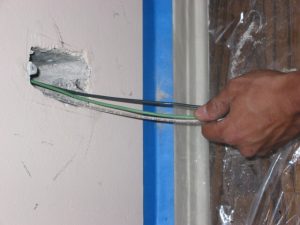 Rewiring your home can be a tough or easy process depending on how you approach it. However, it's an electrical project that must be done once it's necessary. It's good to wonder what's involved and how electricians rewire a house. Read on as we explore this.
What's involved in rewiring a house?
The first thing to know is that rewiring can be messy and disruptive despite how much your professional electrician tries to keep this smooth and easy. The walls will have to be drilled into, and the flooring lifted in some cases. Your electrician will;
Install new cables
Rewire sockets
Add or move outlets, switches, light fixtures, and so on.
Fit new back boxes on outlets and switches
Add wiring for a smart home if needed.
Also, home rewiring projects usually occur in two stages, which are;
Replacing circuits and back boxes, cabling, and wiring for the first stage.
The second stage involves installing lighting fittings, faceplates, switches, testing, and setting everything up for use.
How is a home rewired?
Step 1 – Get the required permits and codes
A rewiring project will need a permit from your local building department. The electrician will pull the permit while you cover the expenses.
Step 2 – Access the walls.
Depending on the condition of your home (lived in or vacant) the electrician will have to determine how he plans to access the walls of your home. After making this plan, he will figure out any new cable locations too. Most of the new wiring will have to be run through the attic and crawlspace before entering the walls. With a plan in motion, the electrician will shut off power to your home to begin.
Step 3 – Drill new holes and rewire outlets
It might become necessary to drill new holes to rewire outlets, switches, or install fresh wiring for future appliances. A professional electrician with skill can do this easily and protect your walls from excessive damage.
Step 4 – Determine the number of circuits
Chances are you are rewiring your home because it's an old home. Most old homes lack enough circuits to meet the demands of modern homes. A professional electrician is updated and knowledgeable of the recent National Electrical Codes and can identify the appropriate number of circuits following these guidelines.
Step 5 – Replace your service equipment
Rewiring your home can mean changing the wiring in addition to replacing your service panel. It's up to your licensed electrical technician to find out if your electrical panel needs to be repaired or replaced to suit the new wiring.
When is rewiring necessary?
Rewiring offers many benefits such as more power, efficiency, and safety in your home. But it can only be done when necessary. You can call an electrician to see if you need to rewire your home in any of the following situations;
You live in an old home
You are planning on a major renovation
You are adding new major appliances
Your electric system is unsafe