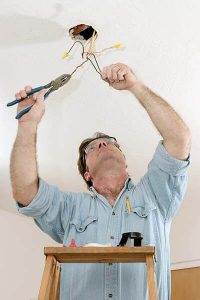 Does your home need something different, but you just can't quite put your finger on it? Maybe you want to give it a facelift or make it feel more inviting. Seeing the same thing day in and day out can get a little old and boring. Your electrician in Glendale has a few tips that may inspire you to switch up the lighting in a room to achieve a fresh, new look. The team at The Electric Connection can take care of the installation once you have chosen your new fixtures.
1. Have a Glendale electrician add dimmer switches to give you more control over the amount of light in the room. You can go from bright and cheery to dim and romantic with the slide of a switch.
2. Pendant lights are a great way to decorate a room while adding light. The pendants come in a wide variety of styles and colors. You can add a little flare to a space with the right pendant. These are great choices over a kitchen island, a reading area or even a mantle. The heights are adjustable which makes them very versatile.
3. Adding undercabinet lighting is an excellent way to bring in focused light that doesn't crowd a room. Small LED strips mount under a cabinet and are completely out of the way.
4. Focus on your entryway lighting says an electrician. Glendale homeowners will be surprised at the difference this makes. You can go bold with a beautiful chandelier that sets the tone for the entire home.
5. Use chandeliers to create focal points in a room. Chandeliers are not just for the dining room. You can add them to a master suite or a sitting room. The light fixture becomes a functional centerpiece.
Lighting a home doesn't have to be boring or run-of-the-mill. Have some fun picking out the right fixtures for your home and then call The Electric Connection for the installation.