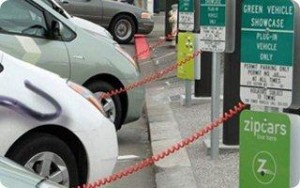 Electric cars are very economical—if you use them right. Most people don't and end up paying nearly as much as the owners of small, gas-powered cars. This is because the electric cars are often not charged as they should and the electric car owner is forced to rely on the gas in the tank to drive the car. You can change this by investing in a Level II charger. In order to use the charging station at home, you will need to give an electrician in Beverly Hills a call. You can always depend on the team at The Electric Connection to send out a reliable, professional electrician to get the job done.
The fast charging systems require a large 240-volt outlet. These are not typical in most garages and carports. If you have had your home custom built, you may have already had one installed. The outlets are the funny looking ones that your air conditioner or dryer plug into. Because the chargers require more electricity than a standard Level I charger, you will need a breaker dedicated solely to your Level II charger.
If you are not sure if your electric panel can support an additional breaker, don't worry about it. An electrician will let you know during the Beverly Hills electrical inspection. It will be one of the first things the electrician checks for. If the panel doesn't have the room, an upgrade will be necessary, which is something the electrician will handle.
The investment of the faster system and the electrical outlet is well worth the cost. You will be able to save a great deal of money on your weekly gas bill by relying on your charged electric car rather than gas. Give The Electric Connection a call today and schedule your initial inspection for a Level II charging system installation.