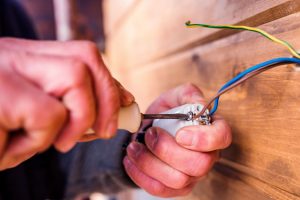 A new home comes with the excitement of setting up things just the way you like them. You could be eager to try out different colors and textures; explore flooring options, window placement, and so on. Getting everything done to your liking is what makes your new home feel truly yours. But, in all your planning, it's important to consider creative electrical wiring options that may come in handy sooner than you know.
Some electrical ideas to consider with a professional electrician include;
Speakers
Solar panels
LEDS
Electric fireplace
Towel warmers
Built-in WIFI
Security system
Remote access to some parts of the home
Indoor/outdoor home theater pre-wiring
Alarm systems.
Consider the cost
Figuring out your new home electrical wiring can mean looking at several options or ideas. This also means looking at a wide range of costs. The good news is, by making the right choice for new home wiring, you can always enjoy the value when you wish.
Generally, it can cost $100 per run of wire for a new home. The variation in price depends on factors such as the length of the run, the type of project such as rewiring, and more.
With a professional electrician, you can get reasonable prices for a dependable and reliable system.
Terms you should get used to
Electrical wiring can often sound confusing to homeowners. While you might not be able to grasp the entire idea of how home wiring works, it's possible to get by with some basic knowledge. In wiring your home, a few terms to get used to now include;
F connectors – These can be described as screw-type connectors. They are useful for attaching video cables to DVDs, VCRs, and television.
Home-run wiring – With home-run wiring, you run a single wire/cable from a central location or panel to a specific outlet. It is the most common wiring scheme in modern homes.
Daisy-chain wiring – The daisy-chain wiring scheme runs a single wire from a central location or distribution panel to a series of outlets.
Category 5 wire – CAT 5 wire is a high-quality wire used for voice and data transmission.
Plain old telephone service (POTS) – POTS is the traditional style wiring used mainly for voice transmission, but it does not work so well for data transmission.
A few tips to guide your new home electrical wiring
You need the service of the right electrical technician to help with suggestions on the best ideas and providing an adequate wiring service. Some tips to help you work through the entire process of new house wiring are listed below.
Decide on a budget and time frame for the wiring you need. Some ideas may be good to incorporate now, and others can wait for later.
Ask for references from the electrician you hope to work with. Find out about his past work with them, how their wiring works, and if the electrician can provide your service.
Identify your wants and needs beforehand but also be open to suggestions on what works from your electrical contractor.