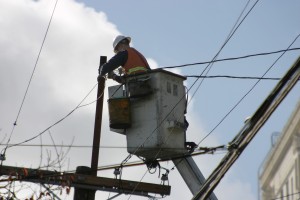 Have you recently had a new shop built on your property? Maybe you are thinking of having a pole building erected to keep your car or other outdoor equipment in it throughout the winter. Did you know that the electrical portion of the building is a separate job altogether in most cases? If you were hoping to have lights, use electrical equipment or plug in your iPod dock, you need to have electricity run to the building. This is typically a job you will have to hire out yourself. Meaning, it is up to you to find the right Los Angeles electrician to complete the job. Customers from around the area have been counting on The Electric Connection to handle their electrical needs and have been very satisfied.
When you are choosing the right electrician in Los Angeles to handle the job, you will want to have a conversation about what is needed for your shop. The size of the building and what kind of equipment you plan on using in the building are going to play a role in what you need. Typically, a separate structure like a shop will require its own electrical box. This is something that will absolutely require the experience and expertise of a certified electrician. Los Angeles homeowners will need to hire a certified professional in order to obtain the proper permits and sign-offs that make the new building legal and up to code.
Your shop or new garage won't be complete without electricity. Talk with a qualified electrician today to learn more about your options as well as the expected cost. The investment will be well worth it and you will appreciate the flexibility a shop with electricity gives you versus one without it. Give The Electric Connection a call today and schedule your consultation.