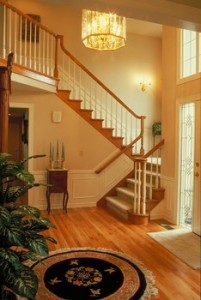 New home construction is a dream many families have. There is a great deal of satisfaction to picking and choosing the layout of your home and adding elements that are specific to your family's needs as well as your own decorative tastes. There are plenty of contractors who will give you the freedom to have a say in the planning stages, including what electrician company is hired to complete the work. Home construction has many elements. You will need plumbers, electricians, framers, painters and landscapers. Having a say in the hiring decision ensure you are getting the chance to choose the best company possible. At The Electric Connection, we understand your desire to check references and see our work.
Some of the things that an electrician will be required to do for your new home construction are as follows;
*Install the electric panel. This is the hub of the electricity to your house. The electrician will ensure it is adequate for your home.
*Install the proper wiring for large appliances like the refrigerator, washer and dryer.
*Complete the wiring needed for outlets and switches. Wiring will need to be properly installed to pass inspection. The electrician will ensure the wiring is tight and secure to each of your outlets and switches.
*If you are having a standby generator installed, the electrician will take care of that as well.
*If landscaping is a part of your new home construction, your electrician can take care of installing and hooking up your outdoor lighting as well.
These elements may not look like much on paper, but the electrical wiring in a home is one of the most crucial elements. It is absolutely essential the work is completed by a competent and experienced electrical contractor to ensure the home is safe. This will also reduce the risk for future service calls. Give The Electric Connection a call today and see what we can do to help you fulfill your dream of new home construction.