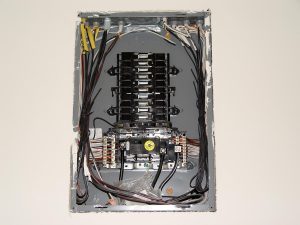 You certainly love the confidence and convenience of plugging in any appliances you need whenever you need them. You love this so much that it becomes easy to forget that your electrical panel cannot give more than its capacity.
According to experts, electricians, recent electrical codes, and homeowners who have had unique experiences, the standard capacity for an electrical panel is a 200 amp service. If you have less, then you probably require an upgrade. Here are all the reasons why.
Amps and Your Electrical Panel
The industrial grey box in that safe, dry area of your home distributes electrical power across circuits that serve you. This box is the electrical panel or breaker box, and every panel has its dedicated capacity. Depending on how much power you need, your electrical panel can be between 100-400 amps.
Old homes often used 60-100 amps panels because they had fewer electrical demands. Using similar sized panels in these modern times can be insufficient for your home needs. It can lead to fire hazards, lights out, faulty appliances, and much more.
Why upgrade to a 200 amp electrical panel
To enjoy increased capability and safety
Electrical panels often work at a certain maximum capacity. This helps to ensure the safe working of the panel. Going over this safety threshold can not only cause your breaker to trip, but can also lead to a fire caused by overloading circuits/outlets.
More circuits
With an upgraded 200 amp panel, you get enough room for dedicated circuits. This further improves electrical safety and allows you to run an increased number of appliances and more power demanding appliances without your breaker tripping.
Future demands
Switching to a 200 amp breaker is one of those good decisions that helps you prepare for the future. With this service upgrade, you can add new devices, remodel your home, and do much more without worry.
Everything is just easier
Another solid reason to upgrade to a 200 amp service is the increased efficiency you get to enjoy. Everything is simply much better and easier with a 200 amp panel. The panel is easy to reset and repair with compatibility for GFCI circuits.
How to know you need an upgrade
Breaker tripping frequently
Dimming lights, especially when appliances are turned on
Buzzing or crackling sounds.
Breaker won't reset
Always confirm the exact source of your electrical issues from your electrician.