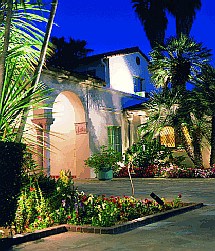 Fall is upon us and it is easy to worry less about the outdoors and focus more on the inside of the house. Even though the weather may be a little cooler, it is still a great time for those outdoor gatherings that carry through into the evening hours. You can ensure your house looks inviting all year with new outdoor lighting that makes your house look fresh again. Your Santa Monica electrician can help transform your old and dated outdoor lighting scheme into one that pops and makes your house look great, even in the dark. All you need to do is call The Electric Connection and schedule your appointment.
Solar lights are great, but with the shorter days of fall and winter, the lights may not be enough to last throughout the night and into the late morning. This is why electric lights are often preferred by many landscape artists. An electrician in Santa Monica can work with you and your landscaper to determine where you want the light and take care of the installation process for you. Lighting up fountains, a play area or the patio are all possibilities and allow you to enjoy the cool fall nights.
There are many things you can do with electric lights that are not possible with solar varieties. If you have a particular shade tree or row of shrubs that you want to ensure is flooded in light for either beauty reasons or to make the landscaping safer, you will want to choose electric lights installed by an electrician. Santa Monica homeowners will love the flexibility as well as the control they gain with electric lights that can be set on a timer. It doesn't hurt to have solar lights as a backup for power outages. If you are ready to update and revamp your outdoor lighting this fall, give The Electric Connection a call today.