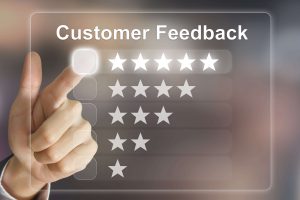 In addition to providing services to homeowners and business, The Electric Connection is proud to offer advice to other electrical contracting companies.
One of the most important factors when it comes to gaining more customers is having an abundance of positive reviews. While most everything is done online today, word of mouth is still the most powerful element when it comes to getting the job. Since everyone is digital these days, word of mouth turns into stokes of the keyboard. It is easier than ever for your customers to tell other potential customers how well (or not so well) you did on the job. In today's marketing, online reviews are yesterday's references and can either help make or break your business.
What Makes Online Reviews Important?
Websites like Yelp, Google My Business, and Angie's List play a huge role in the success of a business. All of your potential clients are searching them daily to find the best electrician in their area. If you have less than a five-star rating, you will likely be left in the dust. Why do these review sites have such a big impact on getting you business?
Reviews left online are highly accessible. They're easy to find thanks to Google, mobile apps, and new features on popular social media sites, like Facebook. Type in any company's name plus the word review and you'll be lucky if one of these sites don't turn up.
Online reviews are also very visible. Even before a potential customer clicks a link, they are able to see how your business is rated right from the search results, some times without even typing your business name.
SEO can also be affected by the reviews left online. Google likes to see highly rated companies in their search results. If you have more stars on your Google My Business page than your competition, you will likely show up above them on maps.
As you can see, online reviews definitely have a huge impact on your business and how it is seen online. A study shows that roughly 72% of customers trust online reviews as much as they would a personal recommendation. It's important to reach out to your customers for feedback on how the job went. Once you get a lot of online reviews, you'll have a ton of new work rolling in.
The Electric Connection believes in quality and offers a lifetime guarantee on all our work. We are fully licensed, bonded, and insured. In each of the last few years, we earned the Angie's List "Super Service Award." We are proud to display on our website over 100 reviews by satisfied customers.