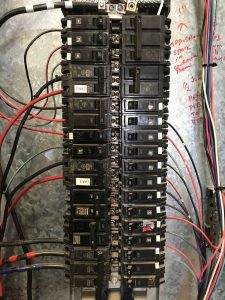 House rewiring is something most homeowners don't want to hear. It involves replacing and upgrading the home's current wiring for several reasons. House rewiring can be pricey and messy for a lived-in home. The electricians have to access what is in place and change them.
Although it is not every homeowner's favorite project, it is sometimes inevitable. Before we discuss further, it is important to know why rewiring is necessary.
If you are taking on a remodeling project. This can include extending or converting rooms in a home. This will alter the existing structure and require electrical rewiring to conform to electrical safety rules. If new appliances are fitted in the rooms, the house rewiring will be carried out to accommodate them.
If the home has not been rewired in the last 20 to 30 years. This is common in old homes. Many people choose old homes for a reason. Some want to feel connected to history or enjoy the homeliness that just oozes from such old houses. The downside to all of this is old electrical wiring. A professional electrician should inspect the electrical system of an old home to determine if it needs to be replaced.
If you want to improve convenience. Rewiring is usually required when the current house wiring seems unsafe. However, you can also do this for convenience. Adding new switches, outlets, appliances, and installations may require a house rewiring to accommodate them.
Are there any alternatives?
House rewiring is a big project. It costs money and creates a mess. Of course, there would be less to fix and clean up after if you haven't moved into the house. The complexity of the project discourages some homeowners.
You might wonder if there are any alternatives to a complete house rewiring. The best option is to call for a survey. An electrical technician can survey your electrical system and tell you the status. If there are faulty outlets in your home, they would equally inform you if fixing them would cut down cost and solve the problem.
This remedial work should not be carried out without the opinion of a licensed electrician. The survey might cost a small fee but what is important is finding a good and honest electrician.
Ensure that after the survey, the remedial work is carried out by a professional electrician. Take personal measures such as creating dedicated sockets for larger appliances. You can also install fire alarms for increased safety.
Remember, that the ideal option for a faulty system is a full rewiring. You can only use a remedial process if the system is salvageable with a few fixes. This is meant to save cost and stress but make sure you weigh all options before making a choice.
The Electric Connection
You need trusted electricians to provide electrical services. At The Electric Connection we provide surveys, consultation, installation, and other services you may need. We can inform you of affordable ways to have a safe electrical system.