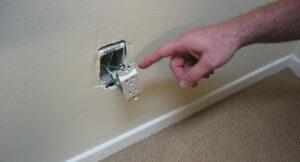 Living in a beautiful city like Santa Monica, you'll want to make sure your house is efficient as it should be and this starts with your electrical wiring.
You can rewire your home if the current wiring no longer serves your needs or if there are problems with your electrical system.
Either way, you'll need the help of a professional electrician in Santa Monica to get this done for you. Since rewiring can be disruptive and not everyone has options when it comes to making quick living arrangements, you might want the work done room by room.
It's possible to rewire your home room by room with an experienced electrician. These are the steps involved –
Find and turn off the breakers to the electricity in the room you will start with. If the breakers are not labeled, then you will need someone to help you check as you turn off the breakers one by one. Be careful while doing this. After finding the correct breaker, double-check by testing the outlets in the room for electrical power.
Unscrew the outlets, switches, and lights in the room to remove the wires. Pull out the disconnected wires by unscrewing them from the terminal screws or using wire snippers. Some wires may be stapled to studs or ceiling rafters. If this is the case and you don't have access to the studs, cut the wires and leave the rest in the walls.
Draw up your new circuitry and remember to add anything you need now that you didn't have before.
Cut a hole in the wall for each installation and remember to give room for nailing the electrical boxes you install to a stud.
Run the wires through the holes using fishing methods and access from your attic or basement. This is often a two-man job.
After pulling the wires through the electrical boxes, strip the ends of the wires to connect the device you want to install. Finish your installation and complete the wiring to the breaker.
Switch the breaker back on to test everything. If there are any problems, turn it off again to adjust.
Repeat the process for each room and you will successfully rewire your Santa Monica house room by room.
Tips for a successful house rewire in Santa Monica
Identify all the materials you will need before the project starts.
Speak to more than one licensed and experienced electrician and choose based on expertise and ability to perform the rewire perfectly.
Note all the changes or special requirements you have beforehand.
Have extra cash for unexpected costs.
Test everything before signing the job as complete and paying the balance.
Get a permit if required and an inspection after.
Don't try to go cheap on important parts of the project. A rewire might seem costly at the moment, but remember it will serve for years if done properly.