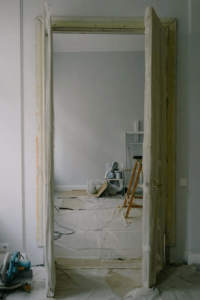 When you're having your home renovated, whether in part or in full, the process will bring some upheaval into your life. There will be unexpected messes, costs, and inconveniences. Most of these can be managed with a bit of contingency planning, though. With all the challenges, doing a remodel can be a great opportunity to upgrade flooring, lighting, and even the air exchange in your home. Here are some tips from The Electric Connection to get you started!
Delays Happen
Even with the best planning, delays will happen. Your contractor and subcontractors will probably give you rough estimates of when the job will be started and completed. While they no doubt plan to make every effort to stay on track, many things can cause delays. The inability to get materials and supplies on time will bring any project to a halt. People get sick and sometimes have to take time off work. Make sure you have the necessary insurance and permits in place before the work starts. Sometimes unexpected findings can add more work and, therefore, more time required for the project. Discovering a mold issue, unsafe electrical wiring, or a plumbing leak could add days or weeks to the time needed. If you're replacing windows or a roof, the weather may change the scheduling of the task.
Prepare for Inconvenience
Even if you're having only a small closet rebuilt, there will be upheavals to your life and schedule. There will be additional noise, dirt, and dust. If the remodel involves the kitchen, bathroom, or bedroom, prepare for big changes while the work is underway. You might need to stay with a friend or family member for a while or seek lodging in a hotel. Specific rooms or the entire home may be without running water for a while. You can prepare for this by stocking the refrigerator with pitchers of water for drinking and cooking and filling the bathtub with water and a bucket, so the toilet can be flushed. If the work is happening in your kitchen, consider setting up a temporary kitchen area elsewhere, with a hot plate, microwave, coffee maker, and mini-fridge. If your pets normally have their water and food bowls in the area that is being renovated, move their dishes at least a week ahead of time so they can get used to the new location.
Expect Changes
Many contractors suggest budgeting for 20% more than the initial estimate. Expenses often go over the expected amount due to price increases in materials, unexpected problems uncovered in the structure, changes in preference, and the season during which the work is being done. Know that while the work is being done, your home will be messy, noisy, and possibly uncomfortable without heat or air conditioning. Although you and your contractor will plan in advance as much as possible, few projects go exactly according to plan. The results will likely not be perfect, but they can still be a very good and welcome change to your home.
Consider Adding a Home Office
While you're planning renovations to your home, you might consider converting a space to a home office. This might take far less work than you imagine. It's a good idea to locate the office as far from the high traffic living areas as possible, for less noise, and fewer interruptions. If you maximize natural light in your office, it may help you stay alert and focused. If natural light isn't abundant, you'll need to have overhead lighting installed, although having both options is ideal. Make sure that your office chair, desk, shelves, and cabinets are convenient and easy to reach.
A bit of money spent on the setup can prevent many aches, pains, and even injuries.
As you're setting up your space to work from home, don't forget that you can also use free online tools to streamline your daily operations and make your life a little easier. This could mean using social media to advertise your work, or taking advantage of this free PDF merger tool to help you keep your digital documents neatly organized and easily accessible.
A home renovation can be a big commitment of time, money, effort, and energy. You'll be giving up privacy, peace and quiet, cleanliness, and convenience while the project is underway. With all the trouble and costs, though, such projects may be the best way to make your home comfortable and livable. If you add a new bathroom or a home office, this could pay off for years to come. So prepare with good planning and well-researched professionals, and consider the process to be an adventure that will leave you with a better living space.
Started in 1979, The Electric Connection has grown into a 30-employee company, providing electrical services to homeowners and businesses throughout the Los Angeles metropolitan area. Call (818) 446-0888.