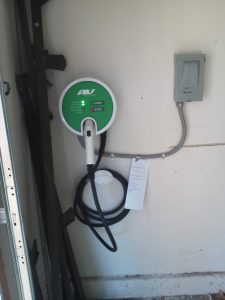 Purchasing an electric vehicle comes with some big decisions. First, it's the car, then you have to decide if you want to have an EV charger installed at your home. You have two main options, a NEMA 14-50 receptacle or a mounted charger. Either one will be enough to charge your electric vehicle at home but they both have a wide variety of differences.
NEMA 14-50
A NEMA 14-50 receptacle is simply an outlet. It looks like the one your dryer plugs into. It's a lot larger than a traditional outlet. With a NEMA 14-50, you take the charging wire that comes with your car out, plug it into the wall, and then plug it into the receptacle. That's it! You're up and charging.
This type of charging will be a slower charge. It depends on your vehicle, but if you want a faster charge, you might want to go with a wall mounted device.
Wall Mounted Chargers
A lot of homeowners choose a wall mounted charger for their EV because of the look and convenience it provides. Instead of just using an outlet, a wall mounted charger comes with a wire attached to it to provide your car with a charge. The aesthetic of a wall mounted charger are much nicer than that of a NEMA 14-50. You can also expect to receive a faster charge, depending on the vehicle.
Now you know the differences between the two devices, where can you find the best EV charger?
There are actually many different places to research. The first place to start is with your dealership. Since they're working with electric vehicle daily, they might be able to recommend the best place to find an EV charger.
If they are no help or you want to research more on your own, head on over to Google. Look up EV charger reviews to see what it pulls up. There are many EV charger manufacturers out there and the chargers offer different features and perks.
Another good place to look is your local electrician. It may sound funny, but many electricians are installing EV chargers on the daily. They know the ins and outs of electric vehicle charging. Not only do they know how to install electric vehicle chargers, but they know which ones work best with which vehicles. Find an electrician who knows what they're talking about and they'll lead you straight to the best EV charging station.
The Electric Connection of Los Angeles has been providing electrical services to the people of Los Angeles and the surrounding areas for over 30 years. In more recent years, we have been EV charger installation experts, providing at least two installations daily. Our offices are open Monday through Friday from 8 am to 5 pm. When you call us during business hours, you will always receive an answer from a live person, ready to help you out. If you have any questions about EV chargers or electrical in generally, please give us a call.